360 Gigapixel Photography
360 Gigapixel Photography reveals huge scale of cityscape and the small details in ultra high resolution.
360 Gigapixel Photography
With 360 gigapixel photography, you get exactly what you ask for and more. 360 gigapixel photography takes hundreds or even thousands of high resolution photos to create one huge gigapixel panorama in 360 degrees. Each 360 panorama contains billions of pixels so viewers can view dozens of cityscapes in ultra high resolution.
In a 360 gigapixel panorama, viewers can see an incredible amount of detail within any environment. Deep-zooming brings the viewer closer to alleys, streets, buildings, and parks.
A panorama covering up to a 360-degree x 180-degree field of view, gives viewers endless possibilities for exploring their favorite cities, destinations, or landscapes around the world from the convenience of their desktop, laptops, smartphones, and tablets.
Deploying a 360 degree gigapixel image to the web allows viewers to find hot spots and major landmarks from their smartphones, laptops, or tablets. Making it more convenient to tour the world on a whole new level.
How Gigapixel Photography Works
360 gigapixel photography requires several areas of expertise. A 360 gigapixel photographer takes hundreds or even thousands of high resolution photos in 360 degrees using high end camera and a robotic camera mount. After the photos have been taken, with digital imaging technique, each one is stitched together carefully using integrated imaging software to create a 360 gigapixel image.
We love 360 gigapixel images because they pack stunning details into a single ultra-high resolution image.There's so much detail that it requires a couple of novel viewing techniques. Since a 360 gigapixel photo has too many pixels than what most display screens can actually handle, we use smoother panning and zooming so viewers can explore a vast level of details.
We'd love to hear from you
Call Us: +65 91292665
Email Us: contact@harokostudio.com
Looking to create beautiful virtual tours for your business? Or just wanna drop an email to say hi? Go ahead and send us an email. We'll get in touch with you as soon.
Exploring A Gigapixel Panorama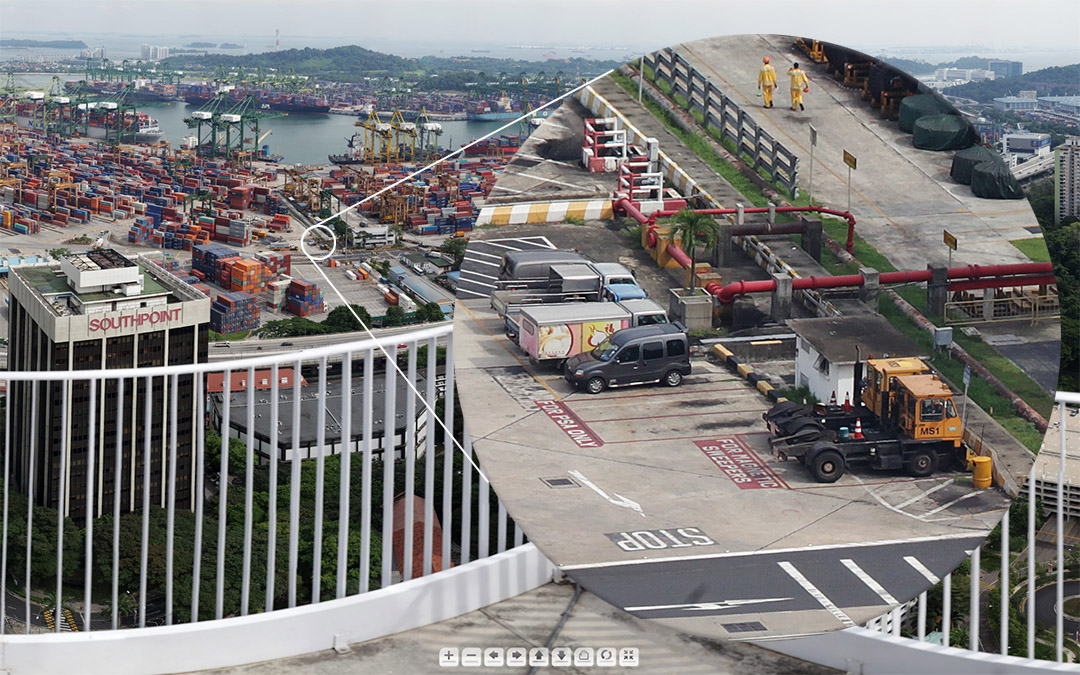 This is a gigapixel panorama of PSA Singapore shot from Duxton Pinnacle. Either using your middle mouse button or the navigation tool, you can zoom in so close to even see the words on the road, as illustrated above. Click below to explore this gigapixel panorama of PSA Singapore for yourself.
Why 360 Gigapixel Photography?
Launching a 360 degree gigapixel panorama to the web allows tourists to view the cityscape in huge scale and in finer details even up to the street level.
Transport viewers to an immersive heritage site where they can explore the riches of history and culture in 360 degrees of panoramic imagery.
Bring viewers closer than ever to the sculptures, paintings, and exhibits they admire most to redefine how we interact with past times.
Install a 360 gigapixel panorama projection of your cityscape to give your audience a whole new level of online interaction.
Make a lasting impression by letting your audience look for and tag themselves in a giant 360 gigapixel photo after an event.
Spice things up by hosting your own treasure hunt where participants can search for special items within 360 degree Gigapixel images.
From shooting to delivery, our gigapixel photographers at Haroko Studio will be at your side to make a complicated and tedious process into an intuitive and convenient collaboration.
Present Your World In A 360 Degree Gigapixel Panorama
We capture everything your audience loves about your cityscape or landscape with our 360 Gigapixel Photography services.