Gigapixel Photography
Gigapixel Photography reveals stunning level of quality and details all within an extremely high resolution photo.
Gigapixel Photography is a technique that involves capturing and combining hundreds or even thousands of high resolution photographs to form an extremely high resolution image that contains billions of pixels. The result is a single explorable gigapixel panorama that is extremely huge and yet remarkably vivid and crisp with amazing details.
Gigapixel Photography is achieved with the use of a high-end camera and a specialized robotic camera mount that accurately takes hundreds and thousands of photos. With digital imaging technique and integrated softwares, these photos were carefully stitched together to create one huge seamless gigapixel image of phenomenal depth and clarity. Post-processing is further implemented to bring out the contrast and colours.
Gigapixel imagery requires careful pre-production planning, an eye for detail, and various post-processing techniques. One of the challenges of gigapixel photography is being subjected to weather changes when shooting outdoors. The constant change in environmental lighting due to the changes of the position of the sun, clouds, and wind, all of which will inevitably affect the photos captured. These photos will have to be corrected during the post-processing stage to balance the lighting and colour across hundreds or even thousands of photos. 
A gigapixel panorama can be turned into a stunningly detailed, zoomable image. A gigapixel panorama of a cityscape when deployed on web page allows you to explore the city as you zoom in and around to find finer details. For example, from street names to a man walking in a park. You are bound to find something interesting within this ultra high resolution image. A gigapixel panorama of an ancient artefact enables you to view and examine its intricate details. Let's take a look at 2 gigapixel panoramas below.
We'd love to hear from you
Call Us: +65 91292665
Email Us: contact@harokostudio.com
Looking to create beautiful virtual tours for your business? Or just wanna drop an email to say hi? Go ahead and send us an email. We'll get in touch with you as soon.
Exploring Gigapixel Panorama Of Cityscape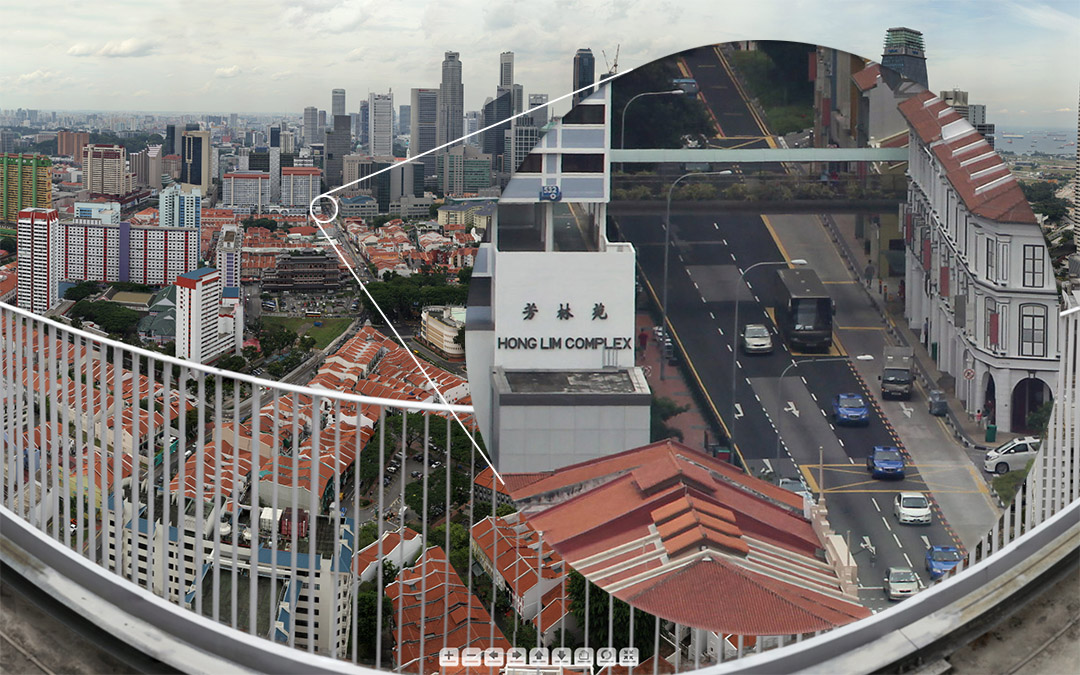 For one of our recent Gigapixel Photography projects, we selected Duxton Pinnacle as the shooting location for this Gigapixel panorama of Telok Ayer and Chinatown. This single gigapixel panorma is made up of 624 individual photos that were shot at high resolution. Viewers can explore everything from street names to historical landmarks. Want to explore the vast level of detail in our panoramic cityscape of Singapore? Click below.
Exploring Gigapixel Panorama Of Ancient Artefact
Haroko Studio was honoured to be commissioned to create a gigapixel panorama of the 19th century ancient artefact, The Chettinad Doorway, that stands at 3.3 metres tall and with 5,000 minute carvings. To enable visitors to view the intricate details of this ancient artefact, we set out to use gigapixel photography techniques and create an interactive and zoomable gigapixel panorama that fulfills this requirement. With this zoomable panorama, viewers can now examine the amazing carvings in stunning detail regardless of its height. Click below to experience our Gigapixel panorama of this 19th-century artefact.
Gigapixel Panorama As A Persuasive Marketing Tool
Gigapixel Photography is a powerful marketing tool for special events and marketing campaigns to generate publicity overnight.
Giving travelers the chance to preview top destinations around the world offers new ways for travel agencies or tourist attractions to expand their reach.
Deploying a Gigapixel panorama of artefacts to the web attracts visitors to your museum through a personalized web viewing experience.
Allow visitors anywhere in the world to explore cultural heritage sites upclose and appreciate the intricate details revealed within extremely high resolution photos.
Printing a high resolution panoramic in large format for outdoor billboard advertising or indoor exhibition prints gives your marketing campaign a special touch.
Expanding the horizons of a ultra high resolution panorama allows participants to take part in a photo hunt during and after sports games, concerts, or other large events.
Launching a treasure hunt campaign within a Gigapixel image is a fun and engaging marketing tool that allows viewers to search for hints and clues within a large image to win prizes.
Haroko Studio Does High Quality Gigapixel Photography
We believe in Gigapixel Photography for its ability to generate engaging content and express what words cannot, which is why our Gigapixel photographers strive to capture a vast level of detail in every Gigapixel panorama.
With careful planning, an eye for detail, and our expertise in post-processing, we deliver quality gigapixel panorama that piques you and your audience's curiosity and interest.
Let Us Support You
Let us create breathtaking and stunning Gigapixel panoramas that cater to your unique marketing or promotional needs and make your vision a reality.