Kwong Woh Hing Sauce Factory
Kwong Woh Hing Sauce Factory is a Singapore-based producer of premium soya sauce and soya paste products. Using world-class ingredients and a traditional production technique honed to perfection, Kwong Woh Hing Sauce Factory delivers a consistent range of soy-based condiments to consumers in Singapore.
From humble, pre-World War II beginnings, Kwong Woh Hing Sauce Factory has expanded on two separate occasions—once in 1960 and again in 1980—to accommodate increasing demand for their highly coveted products. Today they have more than 15 sauces available throughout Singapore and neighbouring countries.
They have crafted several traditional and premium sauces available for purchase online. Both grades of sauce include multiple varieties of soya sauce along with sauces in flavors like sesame, plum, and curry. With these sauces, Kwong Woh Hing also created their six grains vinegar, which comes in eleven unique flavors.
The factory has a mission to produce high-quality products in natural and safe methods. Customers notice a significant difference in Kwong Woh Hing products compared to others. Their products' flavors have more depth and richness.
To showcase their facilities, Kwong Woh Hing commissioned Haroko Studio to create a 360 degree virtual tour of their sauce factory and demonstrate their traditional, intricate, laborious fermentation process used to create their artisanal sauces.
Client
Kwong Woh Hing Sauce Factory
Panoramic Photography And Virtual Tour
Haroko Studio
Kwong Woh Hing Sauce Factory
Interactive Factor Virtual Tour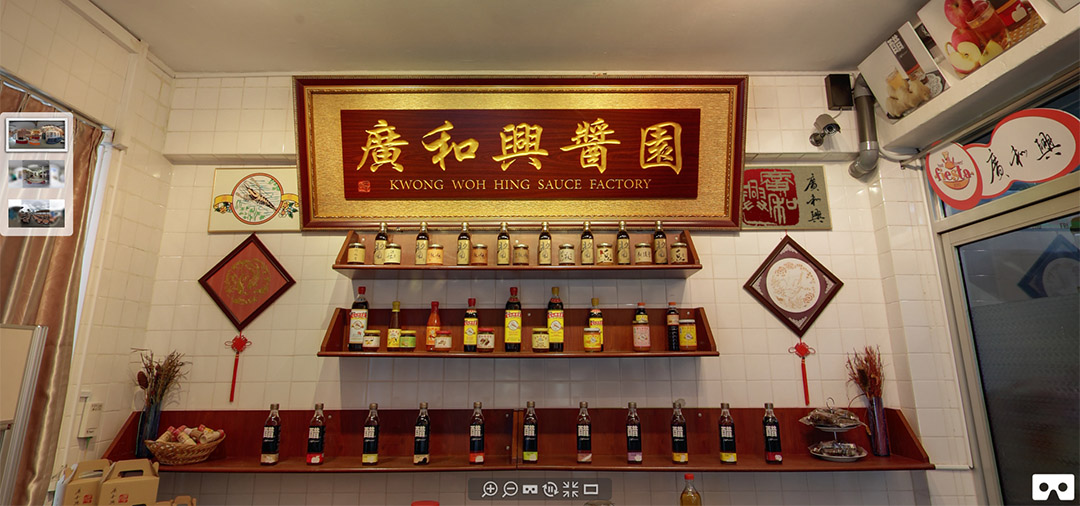 This is the interactive factory virtual tour for the Kwong Woh Hing Sauce Factory, complete with embedded photos, magazine articles, supportive texts, and accompanying music. Viewers have the option of viewing the 360 degree virtual tour in standard or VR mode. On a desktop computer, viewers can navigate around easily by dragging their mouse. They can also zoom in and out using their middle mouse button or using the navigation tools located at the bottom of the screen. In VR mode, viewers simply turn their head around to view any angle that they want, as if they are really there at the location.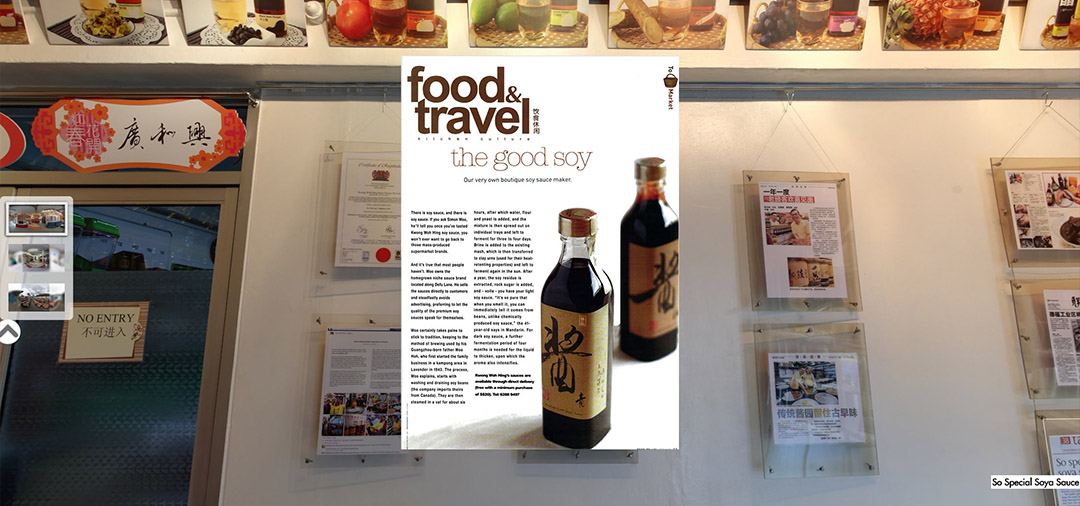 On the walls of the Kwong Woh Hing Sauce Factory, many news articles and magazine features speak praises to their products. By clicking on the images on the wall, you can enlarge the articles for your reading.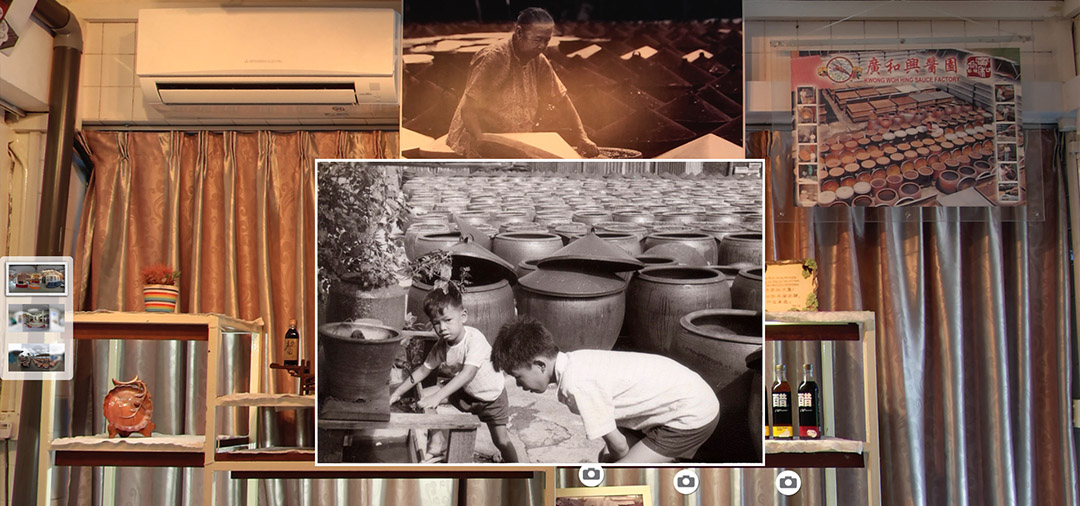 On another side of the showroom, you will notice a few old photographs. The stories behind these photos tell the history of Kwong Woh Hing Sauce Factory. Click on any camera icon to trigger a pop-up of the photograph and take a closer look.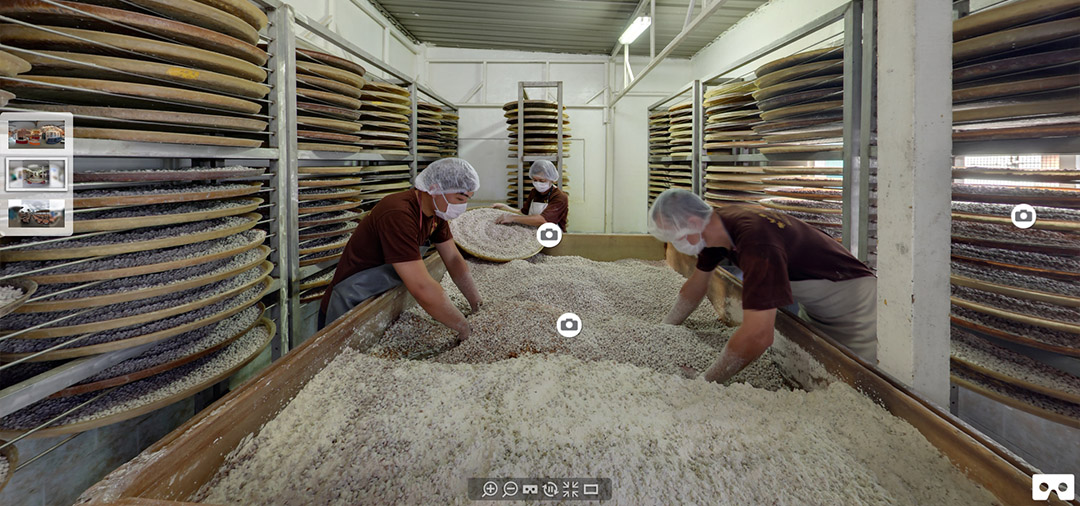 Here in this virtual tour, you can see the fermentation room where the soya bean starts its journey to become a sauce. Every step of the process is done carefully by hand. Click on the camera icon to explore the images in detail.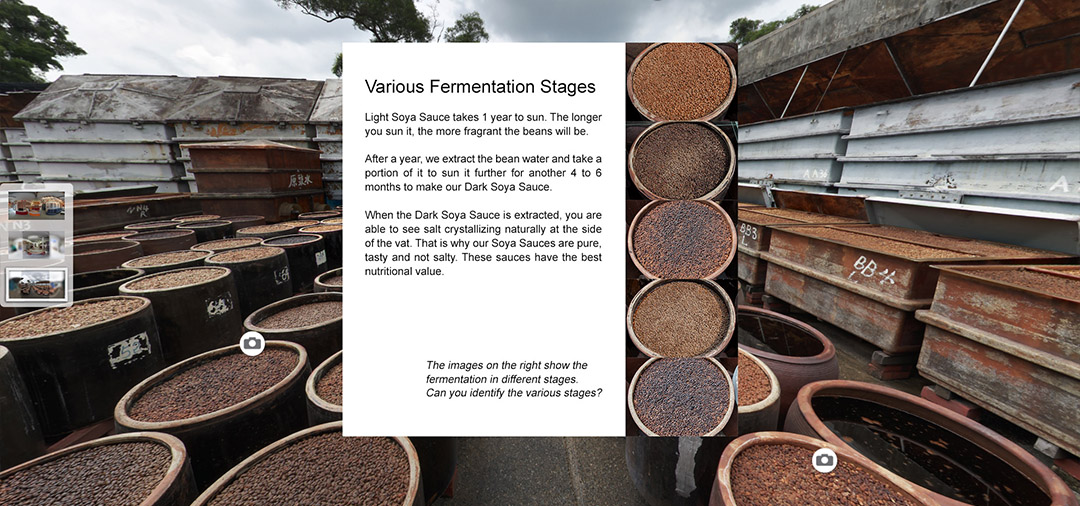 This is the stunning area where soya beans are left to ferment for more than a year. Click on the various camera icons for details and explanations of the various fermentation stages.
Help Customers Gain Confidence in Your Business
A factory virtual tour can be an added advantage for your business. By sharing and showcasing the best of your factory's production facilities and processes through a virtual tour, you can gain customers' confidence in you and your business. Take your customers through your production process as if they were there in person. They can tour your facilities 24/7 online.
A factory virtual tour can also be used as a training tool to train your staff members on the production process or to get them familiarized with the facilities before they get to work.
With our experience in factory virtual tour production, we can support you in planning out the various areas that you want to showcase. We're just a call away from creating an incredible customer experience and a supreme end result.
Our customers often say that working with us is easy, and we want it that way! It is our goal to ensure the very best in photography. We will help you capture the highest possible detail and quality that impresses your audience. We also create informative and interactive virtual tours that help you bring your stories or your messages across to your viewers in an engaging way. To get started with Haroko Studio, call us or complete the "Contact Us" form to the right.
No grid was found for: "vr.