Featuring more than 52 iconic rooms and installations in Marina Bay Sands Hotel in Singapore
Producing and featuring more than 52 iconic rooms and installations in the Marina Bay Sands Hotel in Singapore, this set of 360 virtual tour was produced to bring out the colours and ambiance of luxury for viewers online. Designed as a sales toolkit, Marina Bay Sands uses this as a sales tool on both their website as well as tablets that business developers bring to showcase to their clients.
Featuring their newly refurbished rooms and design, Marina Bay Sands showcases their outstanding suites, from the Sands SkyPark Observation Deck, Outdoor Pools, VIP rooms, Presidential Suite, Chairman Suite, Deluxe Rooms, as well as other family catered rooms.
Client
Marina Bay Sands
Panoramic Photography And Virtual Tour
Haroko Studio
Marina Bay Sands Hotel Suites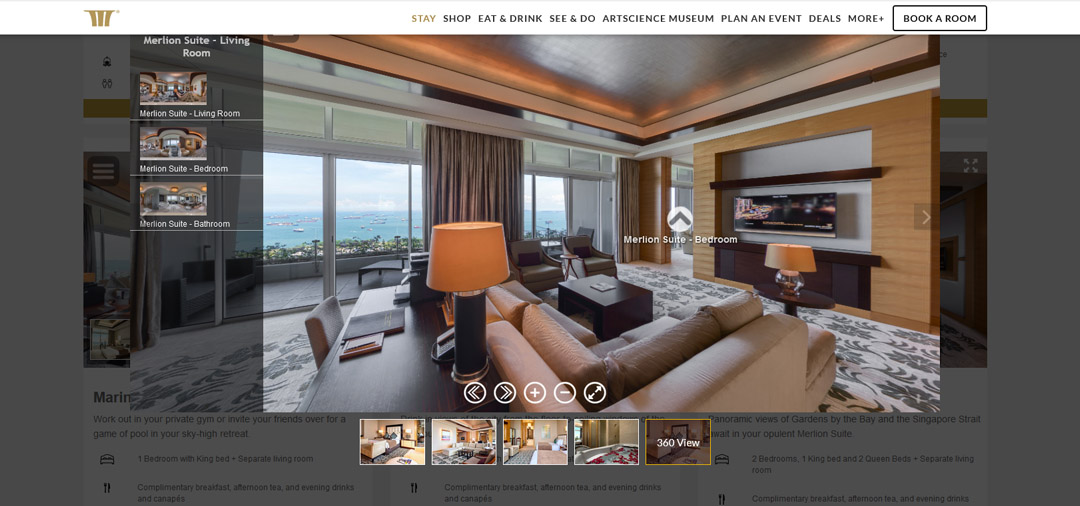 Merlion Suite Living Room
Slide to see day view and night view of Inifinity Pool.
Present the Best of Your Hotel
We at Haroko Studio pay attention to the little details that bring out the best of your hotel suites. We work closely with you to plan out shoots and create a hotel virtual tour that conveys the beautiful rooms, featured amenities, facilities and so on.
Our customers often say that working with us is easy, and we want it that way! It is our goal to ensure the very best in photography. We will help you capture the highest possible detail and quality that impresses your audience. We also create informative and interactive virtual tours that help you bring your stories or your messages across to your viewers in an engaging way. To get started with Haroko Studio, call us or complete the "Contact Us" form to the right.
View More Works