Inspired by the Farmer's Market from around the world, Pasar Bella brings you authentic cuisine and fresh produce from other countries.
Italian for "beautiful market," Pasar Bella is modeled after two world-class open-air markets—the Covent Garden in London, England, and the Queen Victoria Market in Melbourne, Australia. A family-owned facility, Pasar Bella is meant to convey sentiments of a home—warmth, community, and solace.
As one of Singapore's premium shopping venues for both food and open-market goods, Pasar Bella contains more than 30 stores that carry a number of local and international brands, ranging from the niche to the exotic. With store names from Bitesize Monster and Nibbles to Pixie Dust and Little Provence, there is sure to be something for everyone.
The market is a unique experience full of intriguing cuisines, homemade goods, and lively people. It is an experience difficult to capture on any old camera.
Beyond the store accommodations for every age, Pasar Bella features several weekend markets and fairs directed toward specific audiences. They even host events themed around certain holidays to create new reasons for visitors to come enjoy the shops.
Haroko Studio developed a 360 degree interactive virtual tour of Pasar Bella as it opened at The Grandstand. The unique interior design that combines a rustic feel with impressive colour makes the 360 virtual tour an exciting online experience for many viewers.
Relax in the rustic atmosphere while enjoying authentic wine, beers and cuisine from around the world, and shop for the freshest produce.
Pasar Bella At The Grandstand
A Unique Retail Virtual Tour
In this unique retail virtual tour of Pasar Bella, viewers can navigate with ease using a pop-up floor map that illustrates the location of the individual shops. By simply clicking or tapping the red dots on the floor map, viewers can enter any location. To minimize or enlarge the floor map, simply click or tap on the map itself.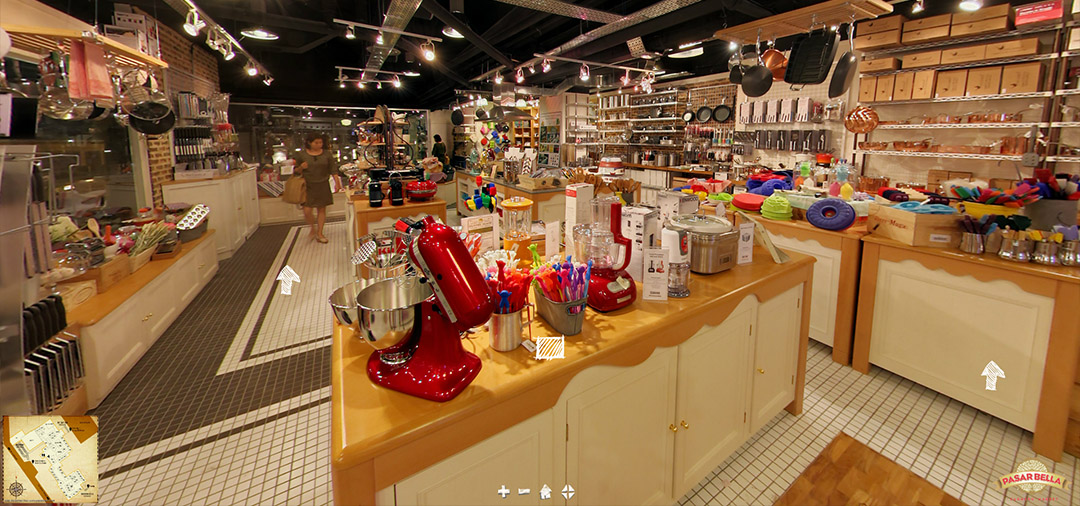 Here is Pantry Magic, a store that sells a wide variety of kitchen tools. Click on a shaded box for a pop-up image of a particular kitchen tool.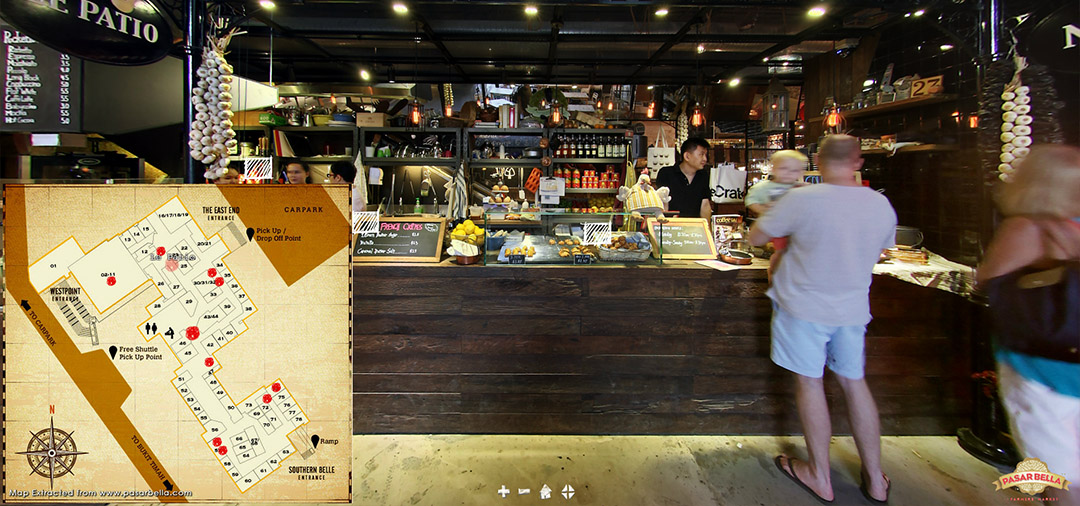 This is the front of Le Patio, a food and beverage outlet that sells Mediterranean cuisine including Paella and crepes.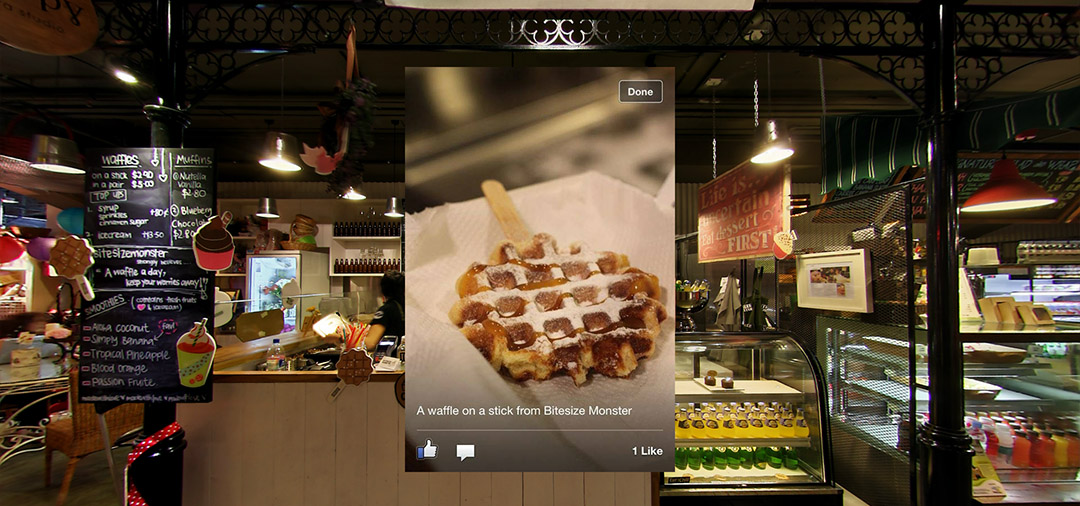 Click or tap a shaded box to reveal a pop-up image. Here's a pop-up photo of a waffle on a stick from Bitesize Monster.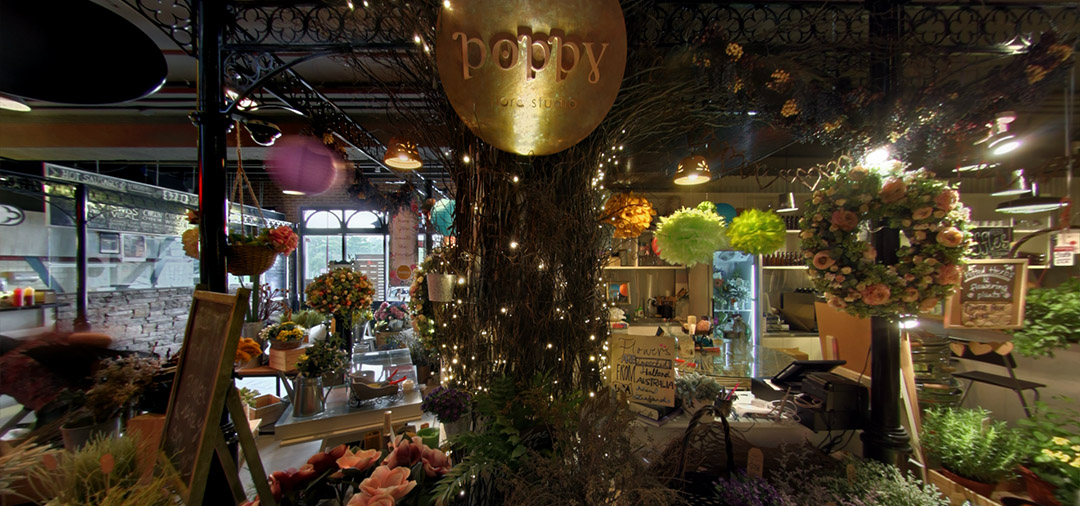 Poppy Flora Studio is an enchanting flower shop that sells beautiful and rare flowers. Zoom in and out using the + and – icon to take a closer look.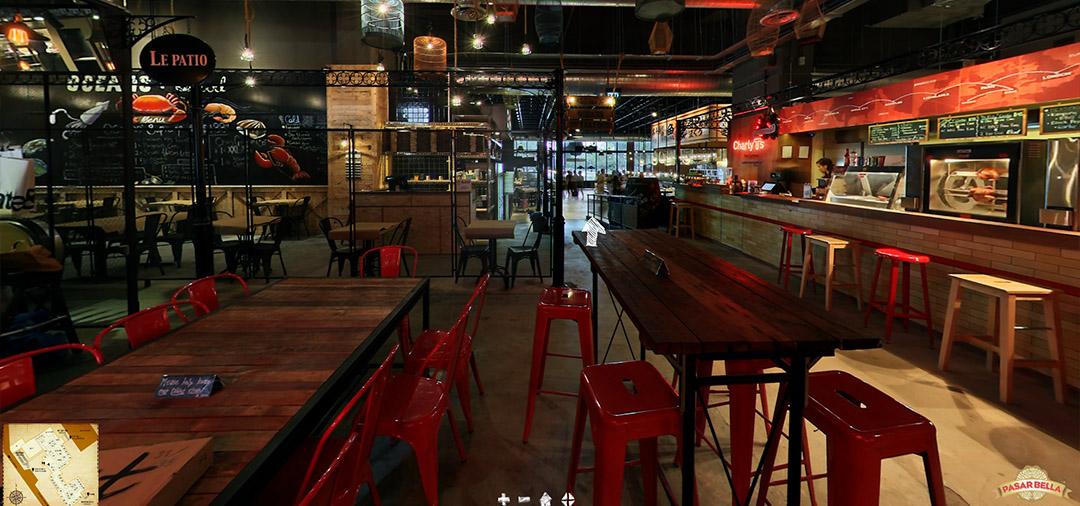 The common seating area for shoppers to relax and enjoy their food.
A stall that sells fresh seafood at Pasar Bella. Take a closer look at the seafood offered by clicking on the shaded box.
Virtual Tours Capture the Essence of Any Retail Store
A virtual tour is one of the best presentation tools for your shoppers to see what you have to offer. Let them tour your retail shops or malls virtually, and entice them to visit in person. Let them feel the atmosphere of your store or shopping centre.
Virtual tours, if installed at shopping mall directories, will help your shoppers get the bearings of their location quickly. The visuals will also help shoppers quickly find shops and recognize storefronts.
Our customers often say that working with us is easy, and we want it that way! It is our goal to ensure the very best in photography. We will help you capture the highest possible detail and quality that impresses your audience. We also create informative and interactive virtual tours that help you bring your stories or your messages across to your viewers in an engaging way. To get started with Haroko Studio, call us or complete the "Contact Us" form to the right.