Patterns Of Trade: Indian Textiles For Export
The Patterns of Trade: Indian Textiles For Export exhibition highlights Indian textiles from 1400 to 1900. These textiles were traded across Asia, Europe, and the Middle East. The exhibition itself is the first time that such a large quantity of these heirlooms and trade items are on display for the general public.
The brightly coloured, intricate patterns became everything from clothing to table cloths to tapestries. These items are part of more than seventy pieces in the exhibit, along with tools and dyes that the Indian people would have used.
Seeing the textiles in person and learning about how they were created centuries ago is an incredible experience to behold. During that time period, Indians produced the majority of textiles for the Eastern World. Patterns of Trade: Indian Textiles for Export captures the vastness of the Indian textiles and their prominent place as forerunners in textile design.
Haroko Studio was extremely honoured to receive the commission to create a virtual tour for Patterns of Trade: Indian Textiles for Export. Our responsibility in this project was to document the exhibition so it could be shared online in 360 degrees. With our virtual tour, anyone can experience this impressive historical exhibit.
Client
National Heritage Board
Panoramic Photography And Virtual Tour
Haroko Studio
Patterns of Trade: Indian Textiles for Export 1400 – 1900
Interactive Museum Virtual Tour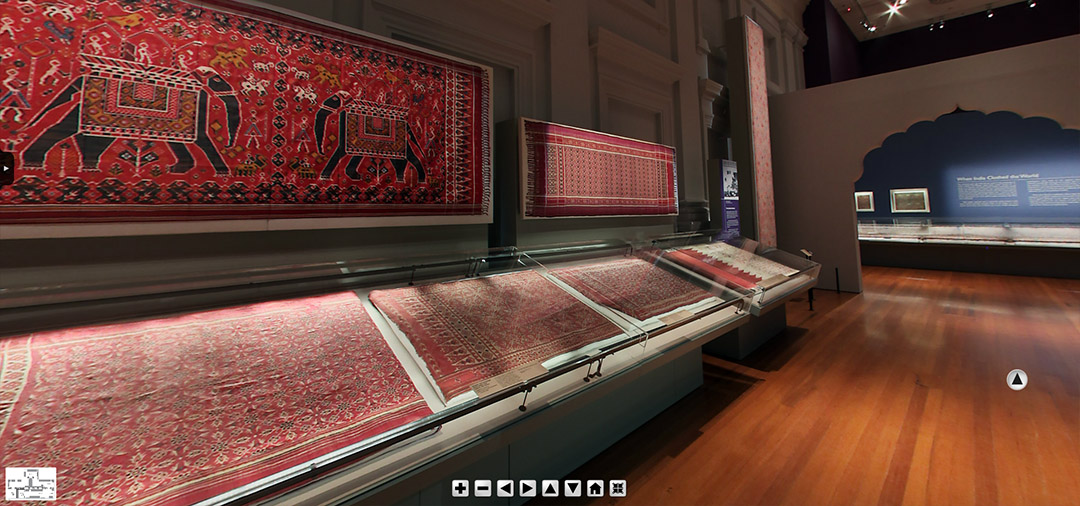 When using a desktop, viewers can easily navigate around in this museum virtual tour using their mouse or using the control buttons located at the bottom of the screen. Viewers can also zoom in and out very easily. Thanks to the built-in gyroscope sensor, mobile device users can navigate the virtual museum by tilting their device. Clicking or tapping on the round arrow icon moves viewers to the next location.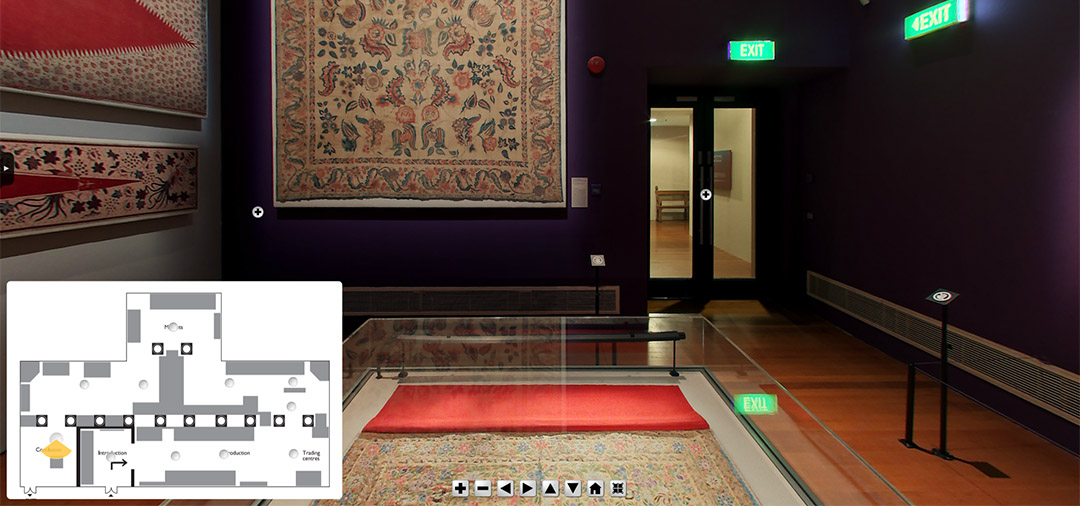 The floor map of the exhibition within the 360 degree virtual tour is also included.
Easily jump to any location using the left panel that displays a list of available panoramas. The left panel can be displayed or easily hidden by clicking on the small arrow icon located on the side of the panel.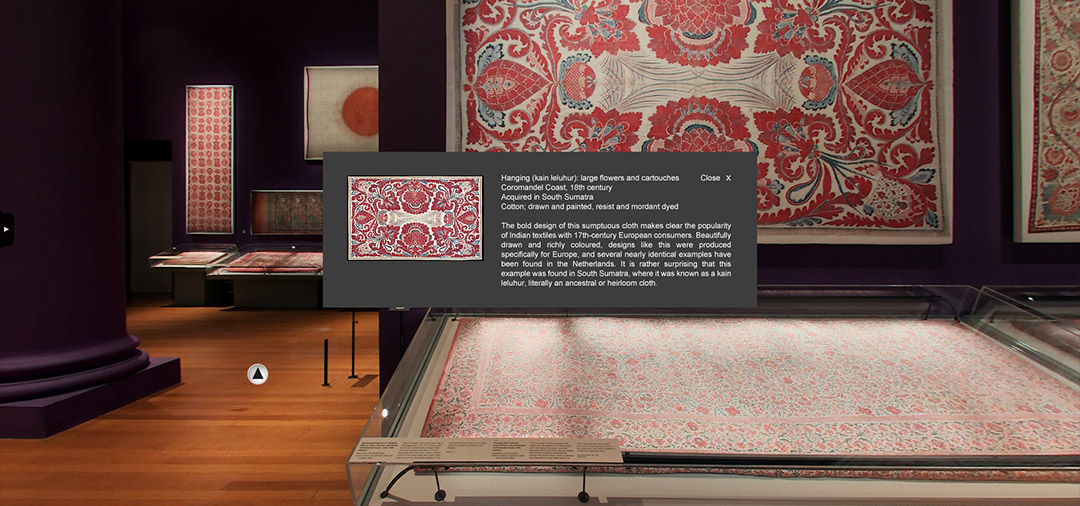 Interested to read more about a display? Clicking or tapping on a cross icon within the virtual tour triggers a pop-up image of the display and any additional information.
360° Panoramic Photography
HDR photography technology was used to produce the high-quality images for this museum virtual tour.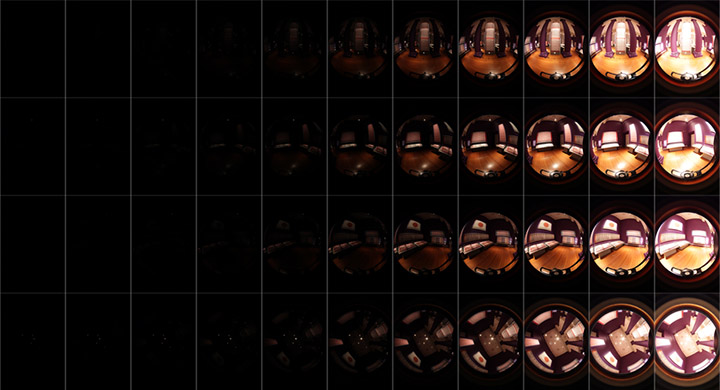 In a museum, lighting can be dim at certain areas, and getting details out from just a single shot can be tricky without compromising quality. As seen in these spherical shots, multiple exposures were used to capture more data and increase the range of detail.
This is known as a spherical projection, which is another way of viewing panoramas.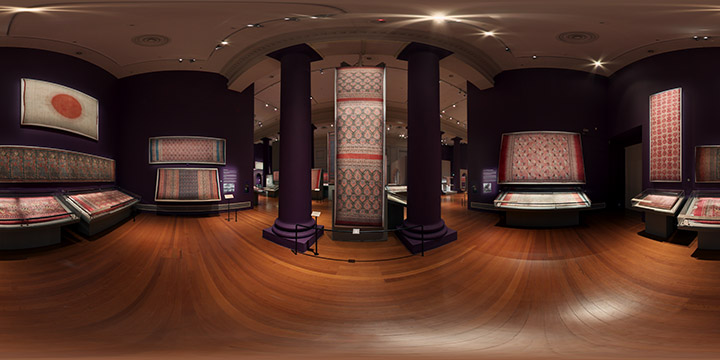 With the wide range of lighting information captured, we could recover the details hidden in the shadows and highlights of the complex textile designs.
Personalized Services for Your Museum Virtual Tour
At Haroko Studio, as each and every project is different and has different requirements, we personalize our services and techniques to each project. Each project will have its own challenges, but we always do our best to apply our skills, years of experience, and expertise to bring out crystal clear imagery in your virtual tour.
Our customers often say that working with us is easy, and we want it that way! It is our goal to ensure the very best in photography. We will help you capture the highest possible detail and quality that impresses your audience. We also create informative and interactive virtual tours that help you bring your stories or your messages across to your viewers in an engaging way. To get started with Haroko Studio, call us or complete the "Contact Us" form to the right.