This Gigapixel Panorama of PSA Singapore was taken from the Sky Garden on the 50th storey of Duxton Pinnacle. It is comprised of 722 photos in high resolution. The resulting gigapixel panorama captures an eye pleasing view of PSA Singapore Terminal allowing viewers to zoom all the way down to Sentosa. At a nearer distance, viewers can zoom in to see the names of buildings, street names, and even words on the roads. It presents an overview of our Port Terminal and yet this gigapixel panorama reveals the incredible details that you can see as you zoom deeper. We invite you to take time to explore this gigapixel panorama and see what interesting details you can pick up.
About PSA Singapore
PSA Singapore stands for Port of Singapore Authority. You may also know it as PSA International.
The history of the PSA Singapore dates way back to April 1st, 1964. When it was formed to take over the responsibilities, assets, and liabilities of the Singapore Harbour Board. From there on out, PSA Singapore continued to grow and expand to become the vibrant and massive port it is today.
In 1971, the PSA Singapore played an important role in Singapore's mission to become the first port in Southeast Asia to accommodate a third-generation container vessel.
The PSA boosted Singapore's tourism efforts when it established the World Trade Centre in 1972, which led to years of innovations and advancements in tourism, business, and global relationships.
It was the winner of three highly esteemed awards for two years in a row: Best Seaport in Asia, Best Warehouse Operator and Best Seaport Terminal Operator.
In 1991, the PSA launched the Singapore Cruise Centre, which utilized its Brani Terminal. A project that cost $1.14 billion to construct.
To this day, it operates the world's largest transshipment hub. Handling 30.62 million TEUs in 2015, PSA Singapore is comprised of one integrated facility with seven container terminals at TanjongPagar, Keppel, Brani, PasirPanjang Terminal 1, 2, 3 and five offer connections to 600 ports around the globe.
Hundreds of ships travel from PSA Singapore to ports all over the world every day. Some of the most popular destinations include the USA, which ships travel to at least twice a day. Approximately three journeys are made to Europe and Japan. Visitors can also travel from Singapore to China, Hong Kong and Taiwan up to twelve times a day. And more than thirty times to the busiest and most popular ports throughout Southeast Asia.
Many tourists continue to visit the Maritime Museum where they can learn more about the port's rich history and achievements.
Gigapixel Photography
Haroko Studio
Gigapixel Panorama of PSA Singapore Terminal
This Gigapixel imagery is made up of 722 photos that were stitched together to create an interactive high resolution panorama of PSA Singapore. The billions of pixels within this image allows viewers to zoom in to see the details that matter most. Try it yourself. Our intuitive navigation tools located at the bottom of the screen make panning or zooming in and out easier than ever before.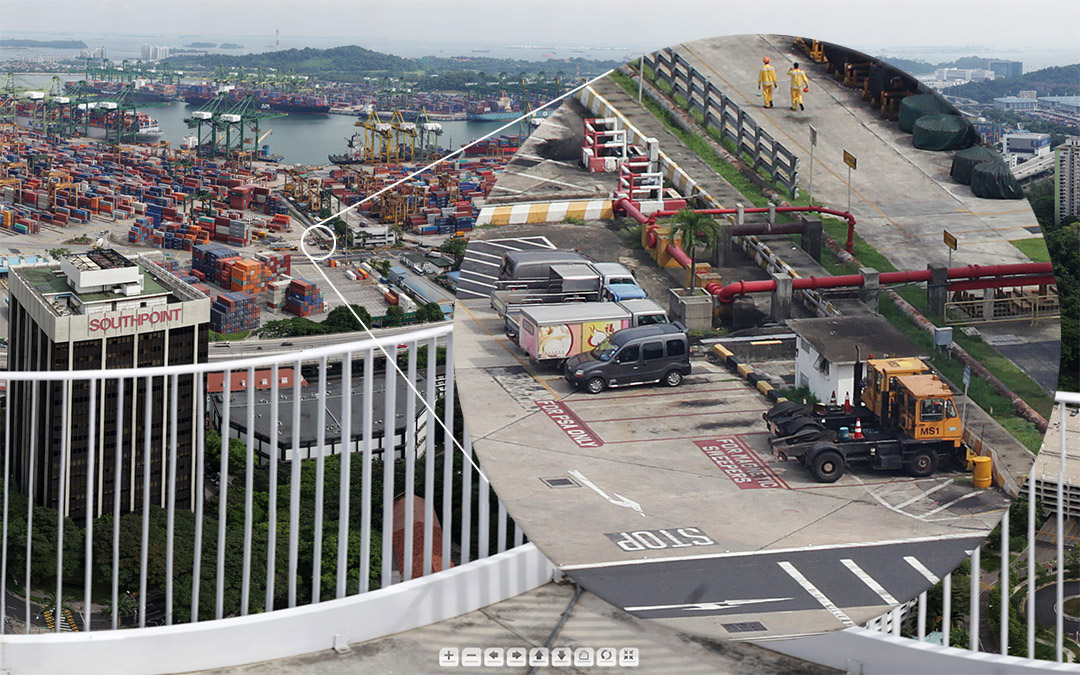 Zoom in all the way and you can even see wordings on the road.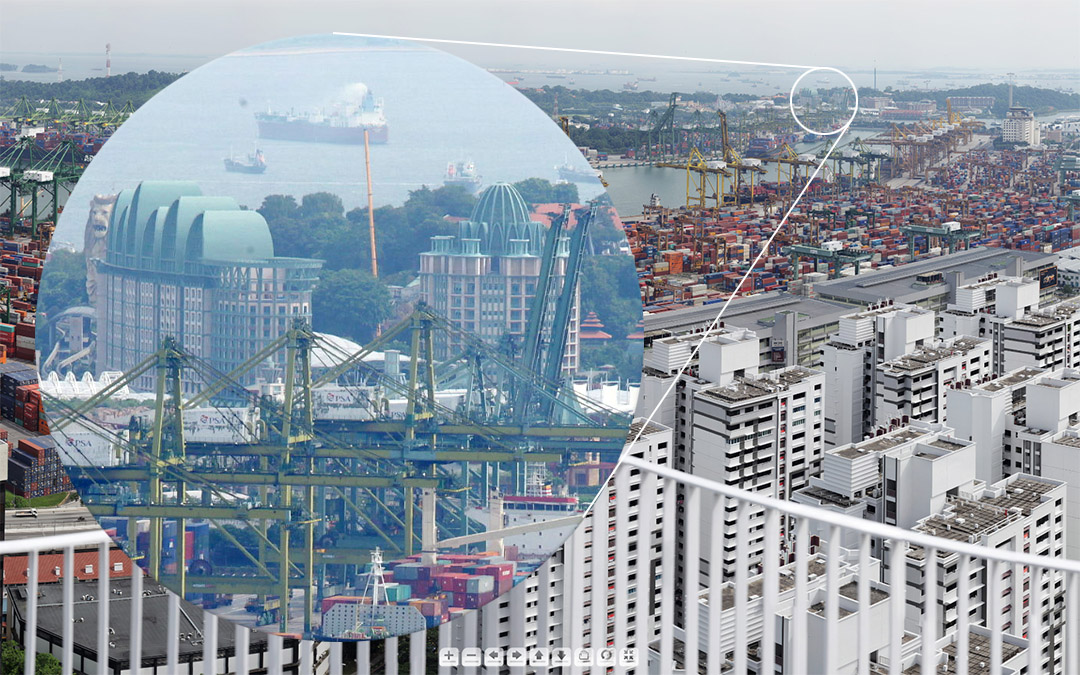 Explore the endless amount of possibilities with deep-zooming features. Pan to the right side of this high resolution panorama of PSA Singapore and zoom in to see all the way to Resort World Sentosa.
Quality And Details Matter
When it comes to Gigapixel Photography, we execute with care and precision. Ensuring you get the level of detail and quality you deserve.
Our customers often say that working with us is easy, and we want it that way! It is our goal to ensure the very best in photography. We will help you capture the highest possible detail and quality that impresses your audience. We also create informative and interactive virtual tours that help you bring your stories or your messages across to your viewers in an engaging way. To get started with Haroko Studio, call us or complete the "Contact Us" form to the right.