Rule Of Thumb Sanctuary Spa
Located at Beach Road in Singapore, Rule of Thumb Sanctuary Spa is a place for people to abandon their worries and concerns for a short while. Rule of Thumb is a sanctuary for invigoration and rejuvenation—a humble home for those in need of both physical and mental refreshment. Using a finely-tuned approach to traditional spa treatment, Rule of Thumb gives clients customized care whenever it is needed. Rule of Thumb hires certified therapists to knead out the knots of daily life and has a soothing décor to transport customers to a place of complete calm.
Besides traditional body massage, you can also opt for foot reflexology that rejuvenates your feet. Or if you fancy having other treatments, Rule of Thumb offers slimming therapy, manicures, and pedicures. For a complete full-body treatment, the spa offers inviting packages such as the Enhance and Indulge packages, which give you a variety of therapies and treatments in one visit.
Rule of Thumb Sanctuary Spa commissioned Haroko Studio to do a 360 degree interactive virtual tour for Rule of Thumb Sanctuary Spa to showcase their marquee facilities and the warm, inviting nature of their space.
This 360 virtual tour of the spa allows customers to check out the facilities of the spa and get acquainted with the inviting space before they come in.
Client
Rule Of Thumb Sanctuary Spa
Panoramic Photography And Virtual Tour
Haroko Studio
Rule Of Thumb Sanctuary Spa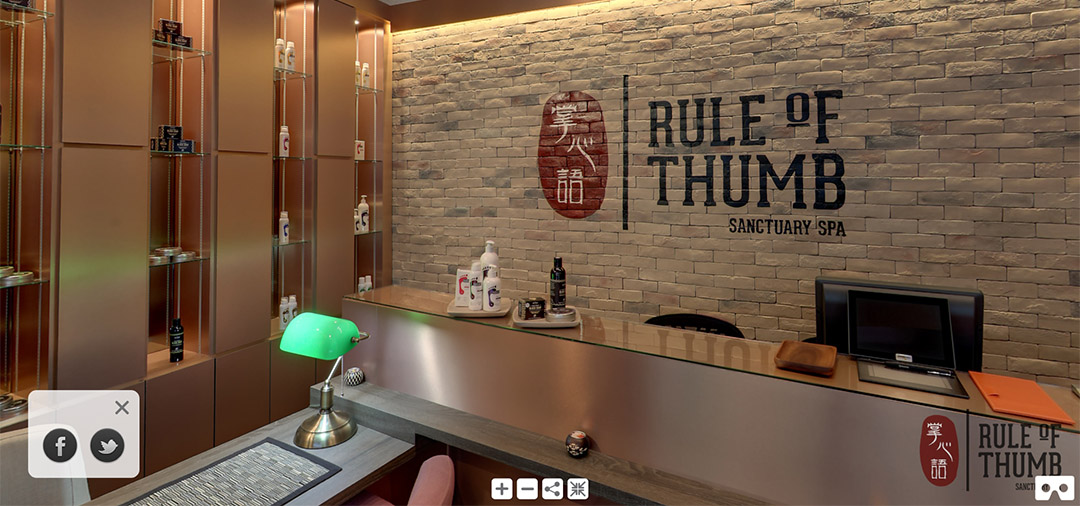 Viewers can easily and intuitively navigate around this spa virtual tour whether they are on a desktop or a tablet or smartphone. In this 360 degree virtual tour, under the client's request, we have included two social media buttons at the bottom of the screen where viewers can share the online tour through Facebook or Twitter.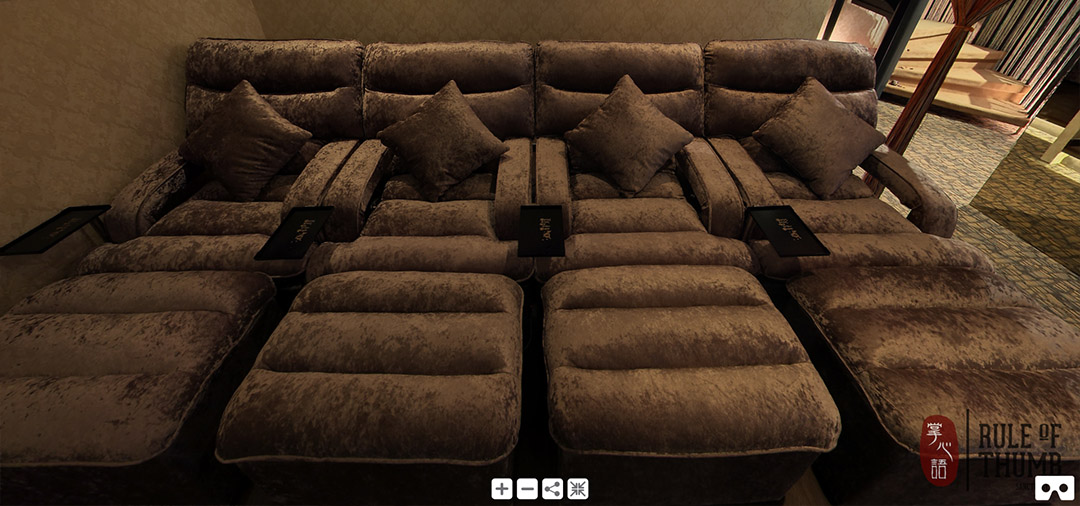 View the cozy and comfortable interior of this sanctuary spa that is built and furnished with the comfort of the customer in mind. Imagine yourself on this sofa set for Foot Reflexology.
To navigate to another location of the spa, simply click or tap on a hotspot, indicated by an arrow icon. When you mouse over the hotspot, a pop-up text will indicate the location.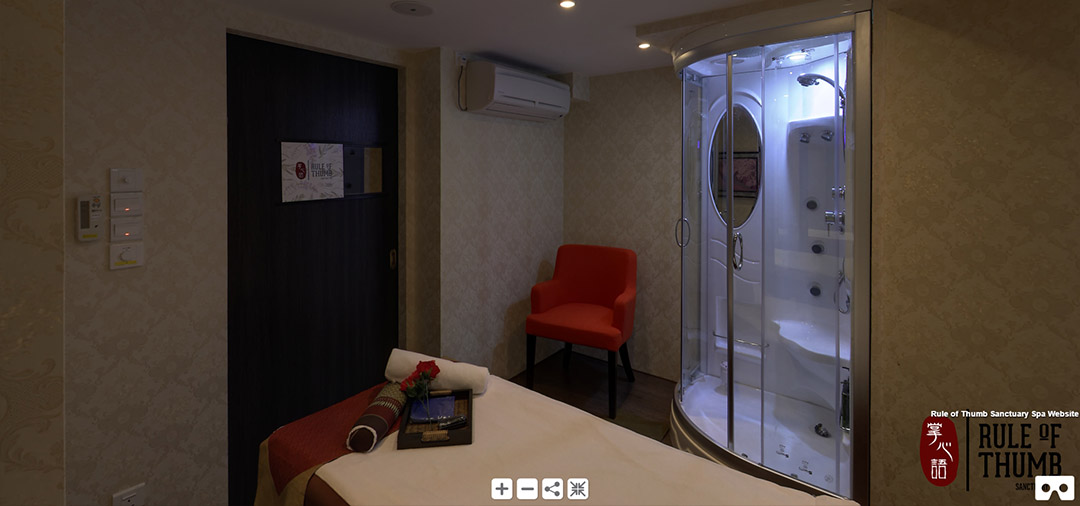 This is the massage room of Rule of Thumb. In this room, there are shower facilities available. Notice, at the bottom right corner of the virtual tour, that the logo of Rule of Thumb Sanctuary Spa is embedded. When a viewer clicks on the logo, it opens up the official website for Rule of Thumb.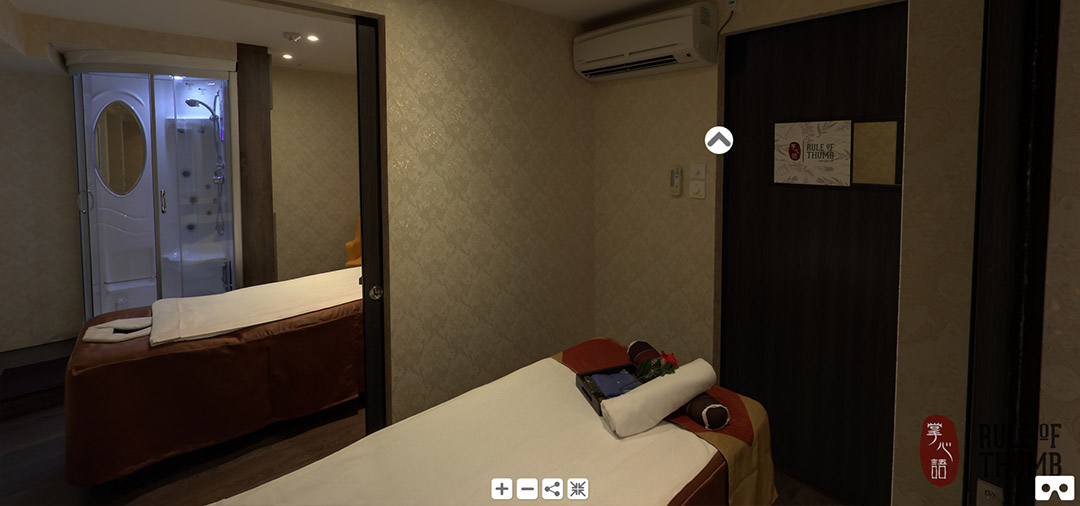 Customers can opt to have a massage session together.
View of Spa in Virtual Reality Mode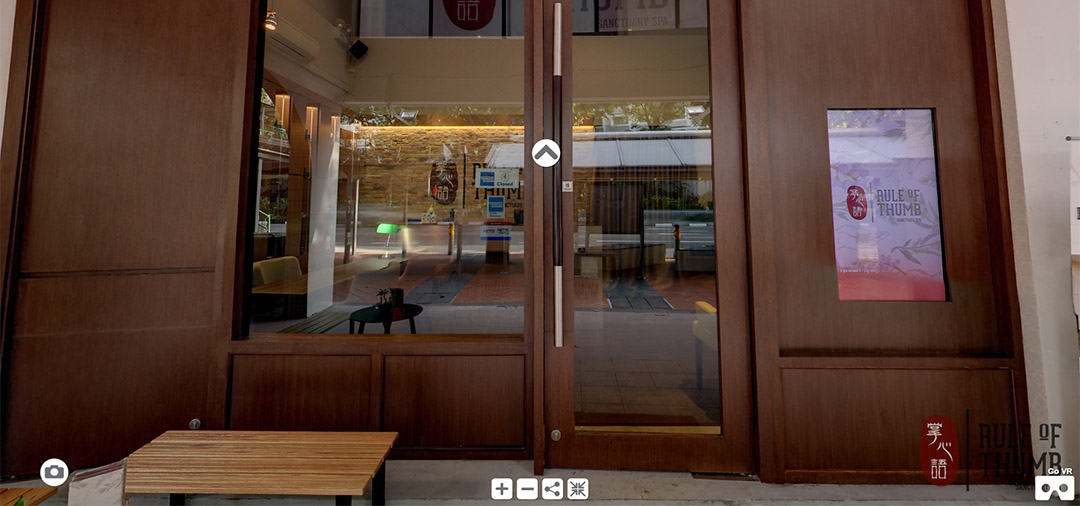 For an immersive viewing experience, use a smartphone or VR headset to view this spa virtual tour. On your smartphone, ensure the virtual tour is in full screen and tap on the bottom right mask icon to get into VR mode.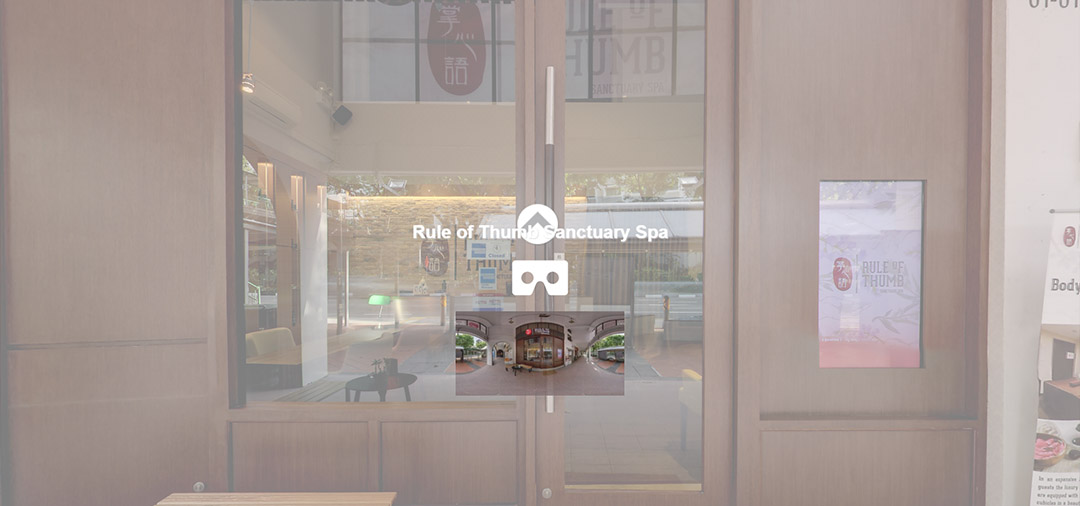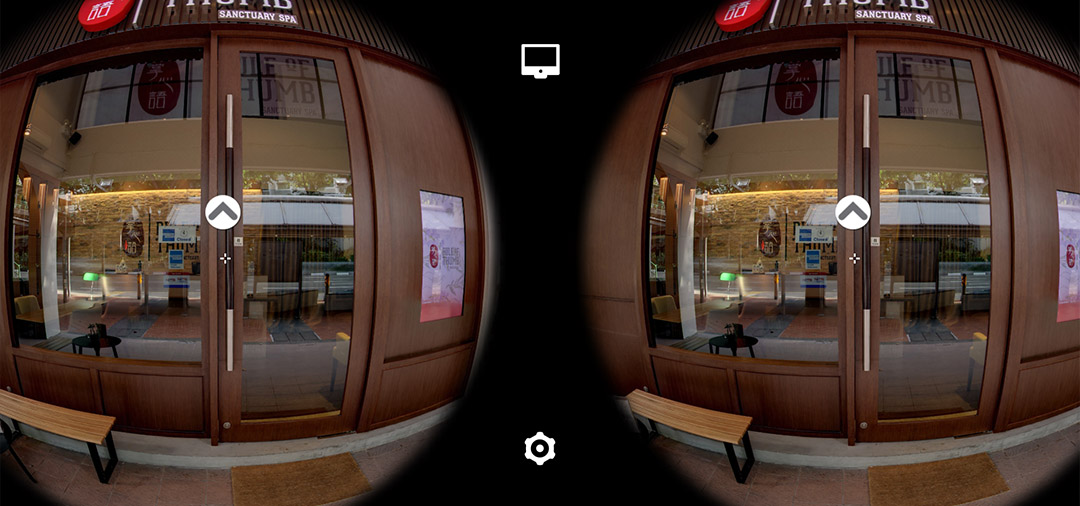 Click on the gear icon located at the bottom of the screen.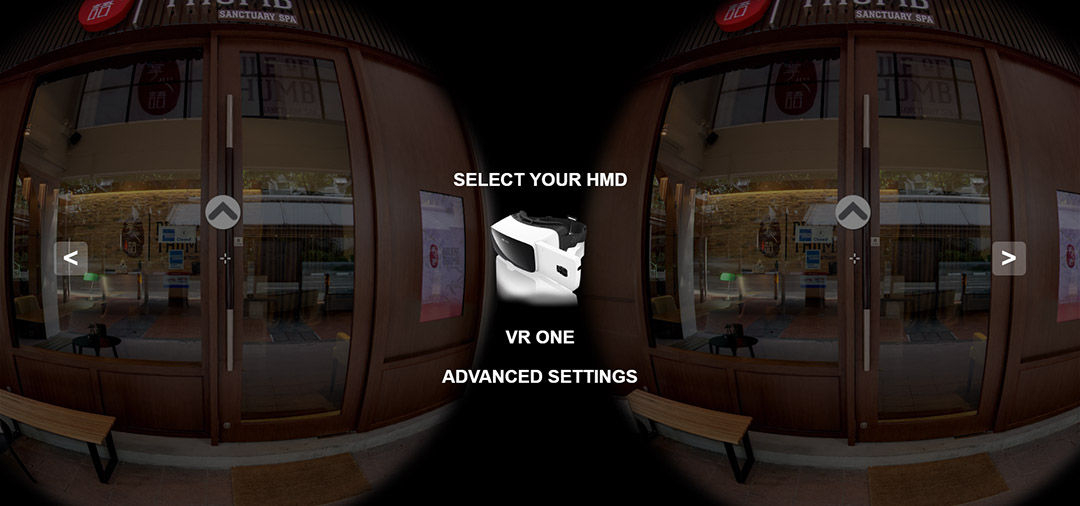 Select the VR gear that you are using, slot your smartphone into your VR headset, put the headset on, and you are ready to begin.
An arrow icon indicates the next location for viewing. To move to another location, simply align the crosshair marker to the arrow icon and hold for a few seconds for the next location to load.
Viewing in VR mode allows the viewer to feel as though they are in the spa. They can view the space from any angle simply by moving their head. Check out the luxurious seats that customers can enjoy while the foot masseuse massages away tire aches and pains.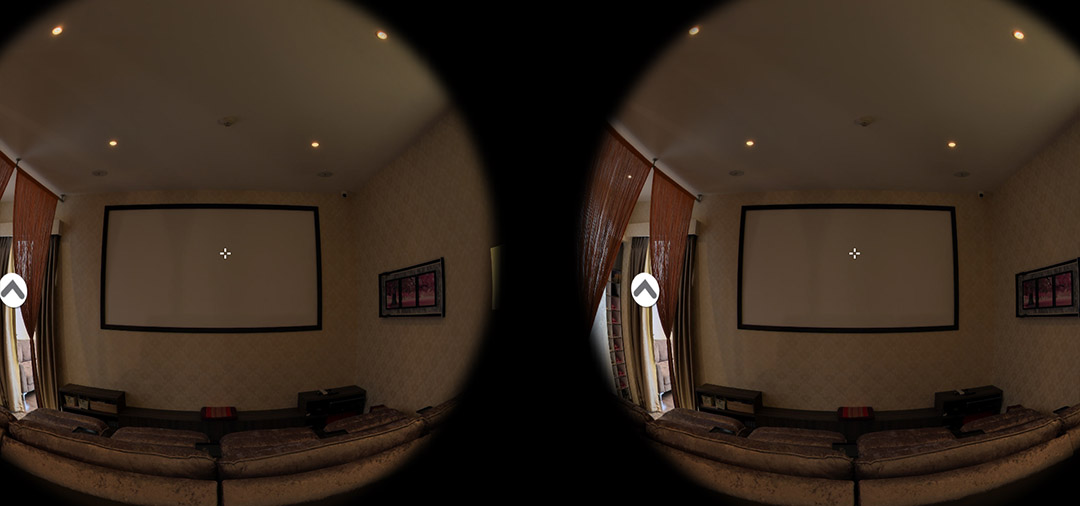 Placed right in front of the customer is a movie screen. This space almost feels like a mini theater. While the masseuse massages your feet, you can choose to put on your headphones and watch a movie.
View of the massage rooms for customers who want a full-body massage.
Spa Virtual Tour for the Health and Beauty Industry
A personalized, 360 degree virtual tour is great for businesses in the health and beauty industry. As clients get inside your venue, they can do more than see how a particular room or space looks–they can feel what it's like to be there and get a sense of its atmosphere.
Best of all, the more time people spend inside your personalized 360 degree virtual tour, the more likely they are to remember you and share your services with their friends and family, exponentially expanding your reach.
Our customers often say that working with us is easy, and we want it that way! It is our goal to ensure the very best in photography. We will help you capture the highest possible detail and quality that impresses your audience. We also create informative and interactive virtual tours that help you bring your stories or your messages across to your viewers in an engaging way. To get started with Haroko Studio, call us or complete the "Contact Us" form to the right.