Sarong Kebaya: Peranakan Fashion and Its International Sources is an exhibit that presents the fashion of Peranakan women. The favored fashion of Peranakan women, the sarong kebaya, has roots in the rich, enigmatic culture of 16th century Islam. The simple design pairs a light tunic with a tube-like, long skirt. Over generations it has evolved as a garment and spread across Southeast Asia. Famed for its rich texture and vibrant patterns, the sarong kebaya made for an extremely eye-catching exhibit at the Peranakan Museum. The exhibit captured how the garment has changed over the years and highlighted the bright colours of the garments throughout the space. Along with the many kebayas displayed, photographs were used in the exhibit to show women wearing this clothing throughout history. As the garment spread through different parts of the world, it was modified to take on fashion elements of other cultures. By attending the exhibit, visitors could better grasp how Peranakan fashion has retained its own unique character in spite of being influenced by various international communities. Haroko Studio was thrilled to work on this project. We created a stunning 360 degree virtual tour to fully capture the magic of Sarong Kebaya: Peranakan Fashion and Its International Sources.
Client
National Heritage Board
Panoramic Photography And Virtual Tour
Haroko Studio
Sarong Kebaya: Peranakan Fashion And Its International Sources
Singapore Peranakan Museum Virtual Tour
Held at Singapore Peranakan Museum, this Sarong Kebaya exhibit was turned into a self-guided online virtual tour. In the virtual tour, viewers can easily navigate from display to display and can zoom in and out to view the details.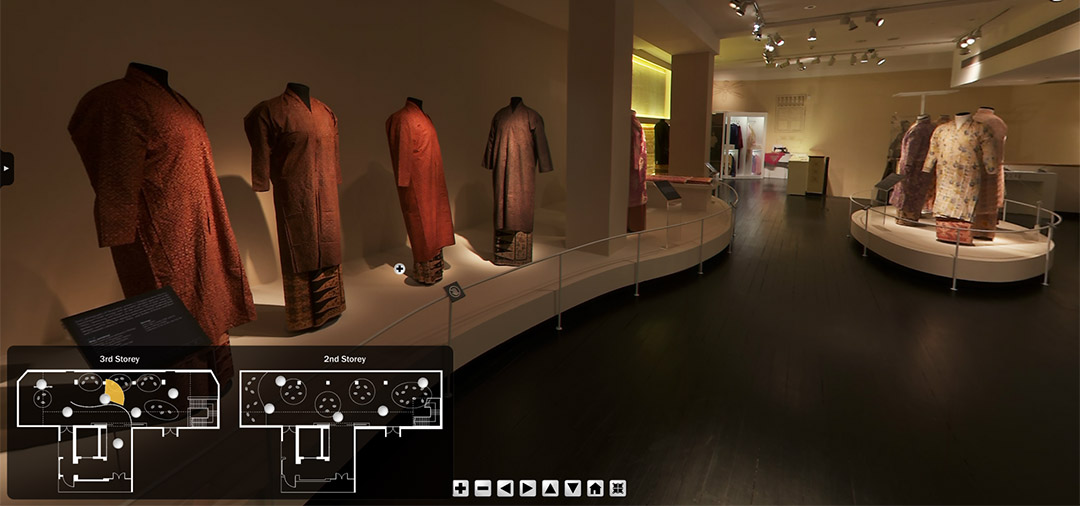 Because Sarong Kebaya: Peranakan Fashion and Its International Sources was exhibited over two floors of the Peranakan Museum, two floor maps were incorporated to make it easy for online viewers to navigate.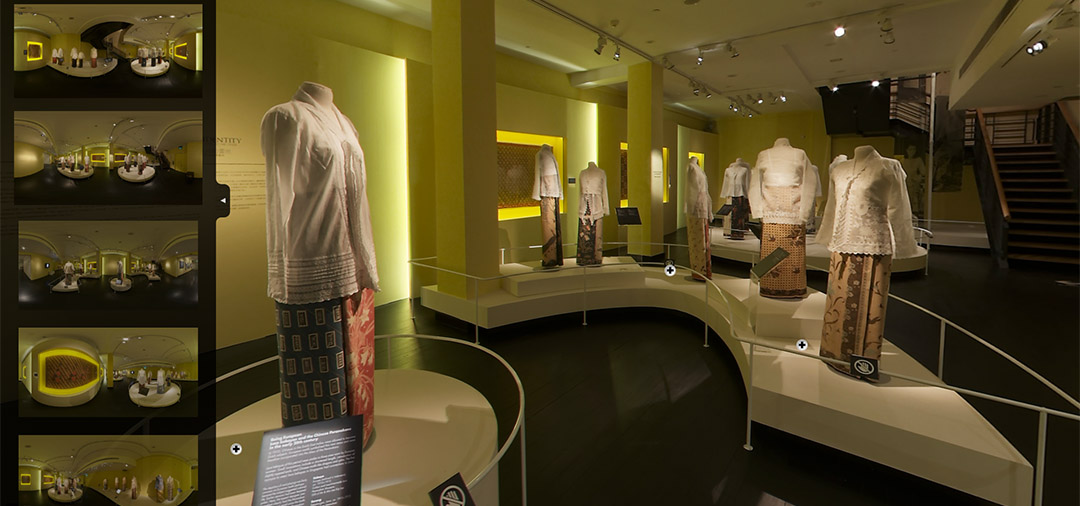 By clicking on the small arrow on the far left, the viewer can open a series of panoramas that provide a quick view of the images and the ability to conveniently jump to a particular display of kebayas.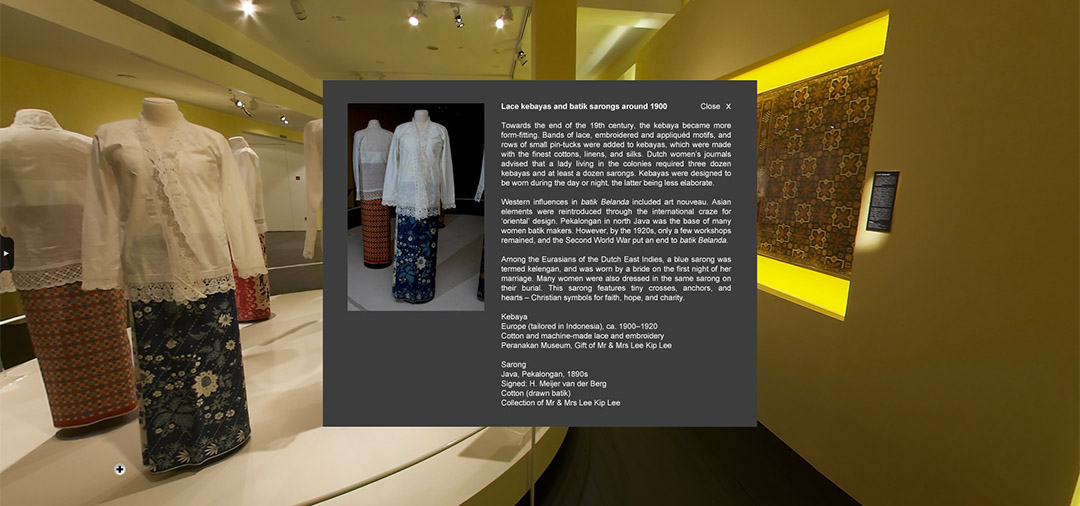 Viewers can click on the + icon to read more about a particular kebaya or batik and its tradition.
360° Panoramic Photography
We uses HDR photography technique to produce the highest quality images that we can and still retain the details within the shadow areas as well as the highlights.
Here's a spherical view of a particular shot in multiple exposures. This technique helps us capture a wide range of lighting data that is to be used later in the post-processing stage.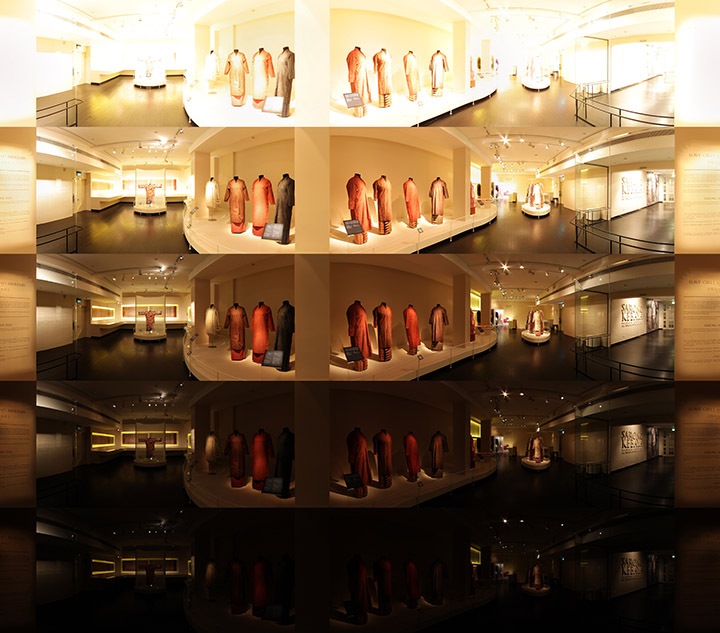 With the range of data captured, we begin our digital imaging process. At this stage, we adjust the highlights and shadows to bring out the detail, correct colour as necessary, and remove other visual flaws.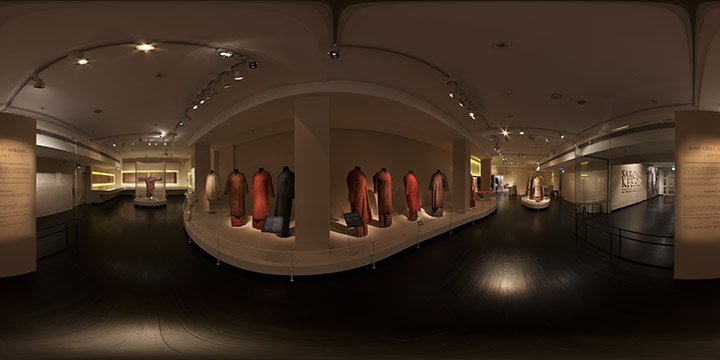 Here's the final panorama image that will be used within the virtual tour after post processing.
Personalized Virtual Tour
Under your direction, we'll develop a personalized 360-degree virtual tour that emphasizes the very best of your exhibit. We'll take detailed notes so that we don't miss anything you want to highlight, and we'll work closely with you to ensure that the virtual tour leaves an impact on your viewers and customers.
Our customers often say that working with us is easy, and we want it that way! It is our goal to ensure the very best in photography. We will help you capture the highest possible detail and quality that impresses your audience. We also create informative and interactive virtual tours that help you bring your stories or your messages across to your viewers in an engaging way. To get started with Haroko Studio, call us or complete the "Contact Us" form to the right.