Established in 2006, the Singapore Biennale is an artistic event that focuses on exploring the differing uses of alternative public spaces in Singapore. It is the largest contemporary arts exhibit in Southeast Asia, and is traditionally organized by the famed Singapore Art Museum.
The Singapore Biennale 2011 featured more than 150 works by more than 60 artists hailing from 30 different countries. The artists posed interesting questions to viewers as they used artwork as a platform for change. The focus for 2011 was a question of where to draw the line between that which is considered public and that which is private.
One artist, Robert MacPherson, used black-and-white simplistic images to communicate the issue of consumerism and labor laws. Artist Ruben Ramos Balsa created an installation inside the Old Kallang Airport. A solitary lightbulb partnered with loud hammering sounds play on the connection between imagery and audio. Within the capsule of the lightbulb, a video shows stomping feet, and suddenly the noise comes to life.
For the Singapore Biennale 2011, Haroko Studio was commissioned to create a 360 degree virtual tour of the event. Since the show is such an extensive project, capturing every work was a unique task to accomplish.
Client
National Heritage Board
Panoramic Photography And Virtual Tour
Haroko Studio
Virtual Art Tour in 360 Degrees
This 360 degree virtual art tour features a selection of works from the Singapore Art Museum (SAM), SAM at 8Q, and the National Museum of Singapore. This interactive virtual tour serves as an excellent tool to document these thought-provoking art installations and share them online. Viewers can easily navigate the tour whether they are on their desktop or their mobile device.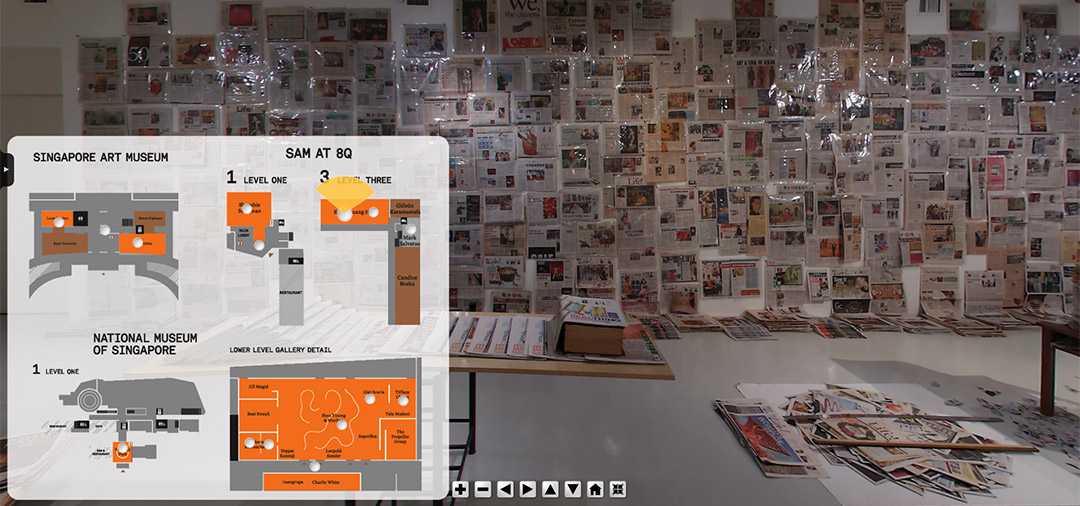 There are four navigation maps of the selected art exhibitions at four different venues. To view any art installation, the viewer can simply click on any round spot on the map, and it will take them to the next location and its exhibit.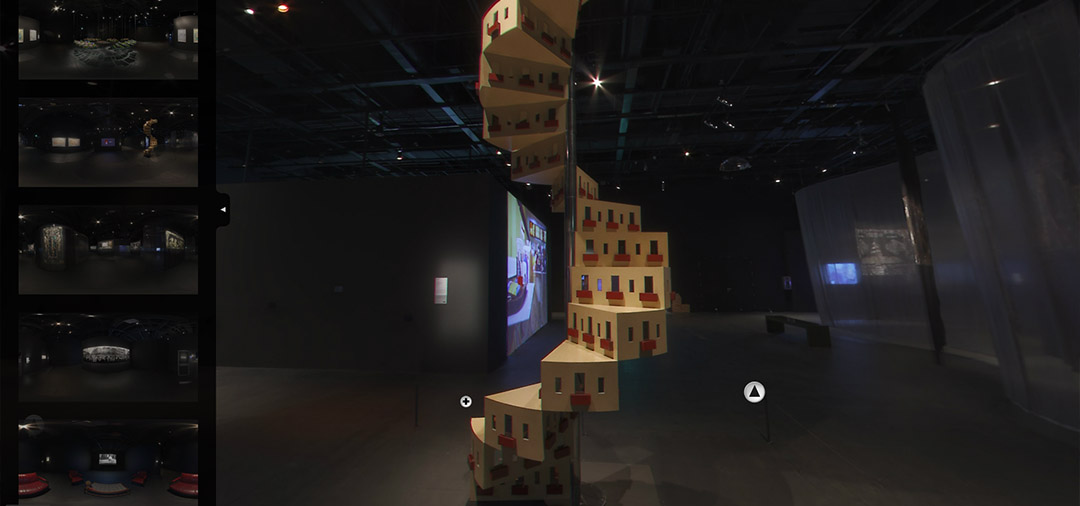 Clicking on the small arrow icon located on the far left of the screen will reveal a list of all the panoramas available. To view another location, simply select from the list of panoramas.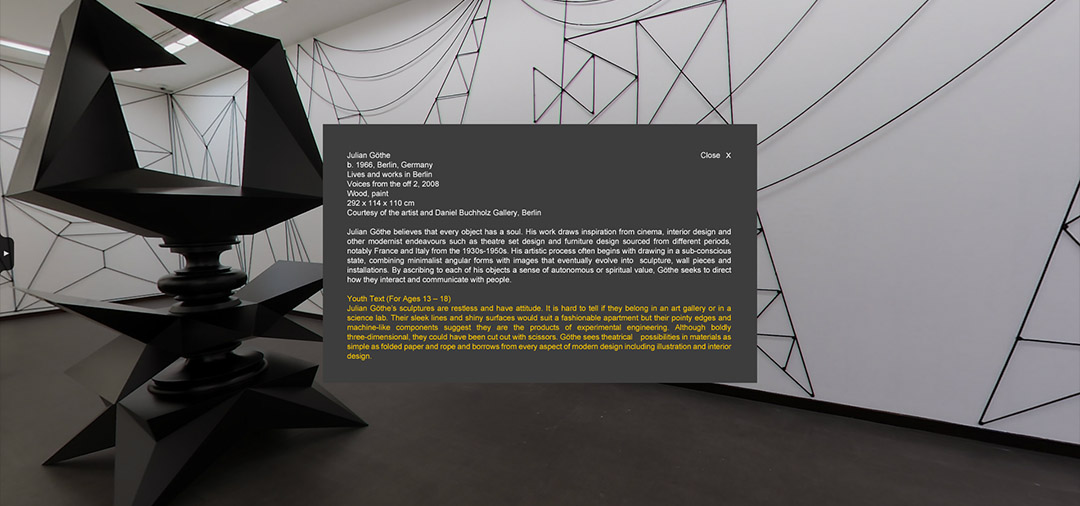 Pop-up photographs and texts of selective art exhibits are available to give online viewers more information on the artworks and installations.
We uses HDR photography technique to produce the highest quality images that we can and still retain the details within the shadow areas as well as the highlights.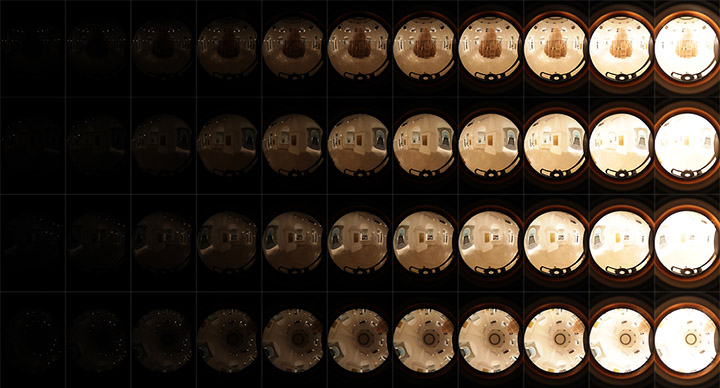 Multiple exposures were taken to increase the dynamic range of the final panorama as seen in these spherical shots. The vast amount of data captured allowed us to bring out the details in the darkest and brightest areas of every image.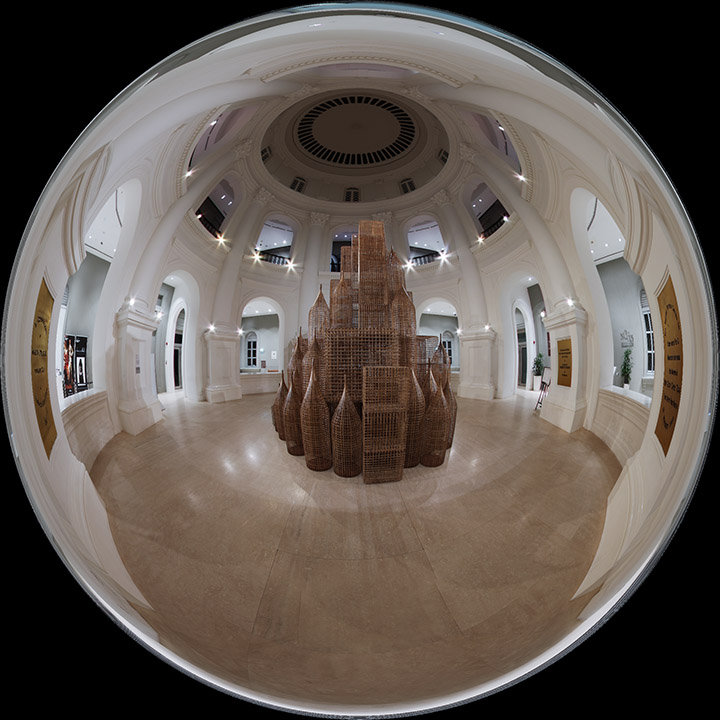 A spherical projection of the panoramic shot.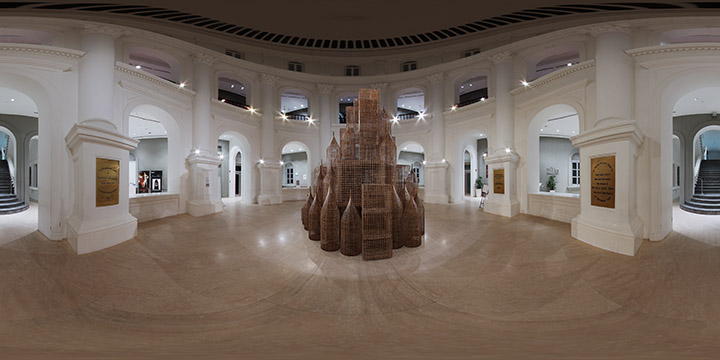 A flattened out 360-degree panoramic image, also known as an equirectangular image.
Personalized Virtual Tour
A 360 degree virtual tour can be personalized to cater to your presentation needs. In this virtual art tour, you can see that installations from different venues were put together within one virtual tour to present the featured works from various artists. By including floor maps of various venues within the tour, viewers can easily navigate from one location to the other.
Whether you have a venue and want to give potential wedding parties and event planners a window into everything you have to offer, or you have a museum looking to showcase the magnitude of your past and present exhibits, a personalized 360 degree virtual tour is a great option to consider.
Our customers often say that working with us is easy, and we want it that way! It is our goal to ensure the very best in photography. We will help you capture the highest possible detail and quality that impresses your audience. We also create informative and interactive virtual tours that help you bring your stories or your messages across to your viewers in an engaging way. To get started with Haroko Studio, call us or complete the "Contact Us" form to the right.
No grid was found for: "360.