To commemorate Singapore's 50th anniversary, the Singapore Energy Story exhibition, presented by Energy Market Authority during the Singapore International Energy Week (SIEW), was designed to highlight the key role that energy has played in fuelling Singapore's exponential growth over the last five decades.
Using interactive exhibits, visitors were able to gain insight into Singapore's important energy milestones and development and gain understanding of how these energy resources have contributed to the future. The exhibit helped viewers better understand the energy sector and how it has dramatically shaped Singapore's economy and culture.
In particular, the exhibit highlighted energy efficiency, an area in which Singapore has recently made great strides. With bright lights and interactive displays, the exhibit was an impressive and educational instalment for visitors.
To document the exhibit, only the best in virtual tour technology was selected. Haroko Studio was commissioned to conduct virtual tour photography and create an interactive virtual tour for the Singapore Energy Story exhibition. This 360 degree virtual tour was shared online so that people could learn about Singapore's energy development long after the actual exhibit ended.
Client
Energy Market Authority (EMA)
Panoramic Photography And Virtual Tour
Haroko Studio
Singapore Energy Story Exhibition
Interactive 360 Degrees Virtual Tour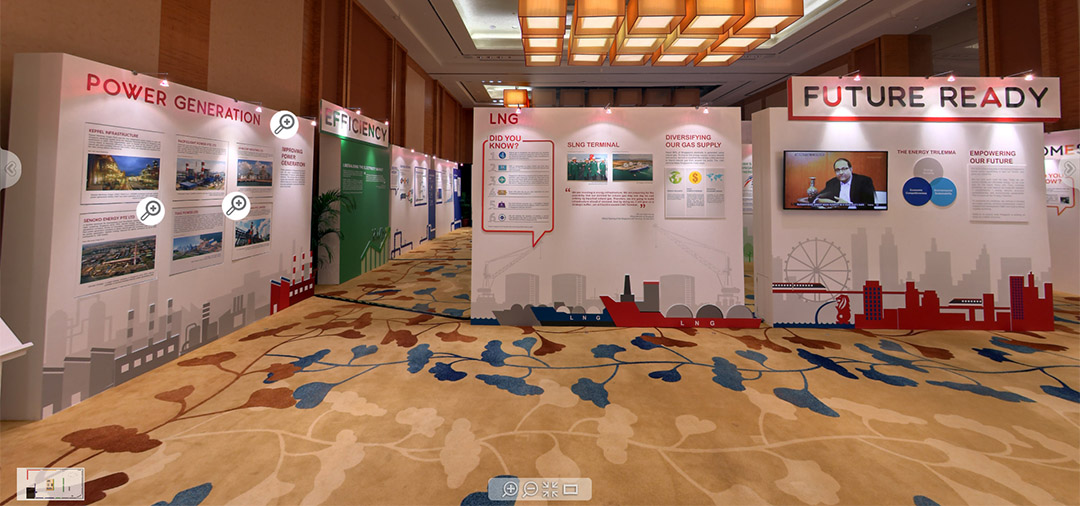 This is a self-guided exhibition virtual tour of the Singapore Energy Story exhibit. Once the viewer launches the 360° virtual tour on their desktop or mobile device, they can navigate and zoom in or out on specific features using the navigation tool located at the bottom of the screen. To move to a new location, viewers can simply click or tap on the arrow icon.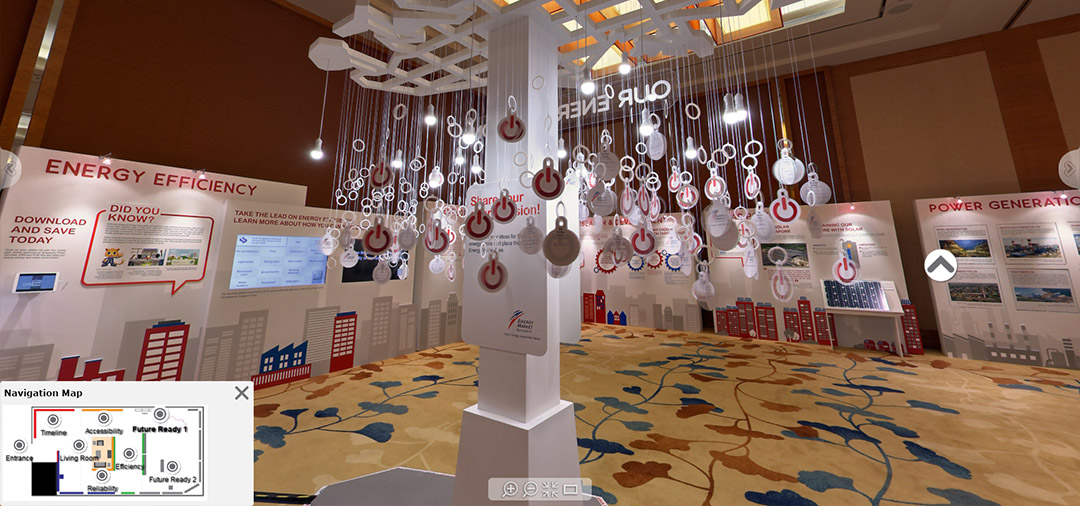 The Singapore Energy Story was exhibited over a large area at Marina Bay Sands' convention hall. Floor maps of the exhibit were incorporated to make it easy for online viewers to navigate in this virtual tour.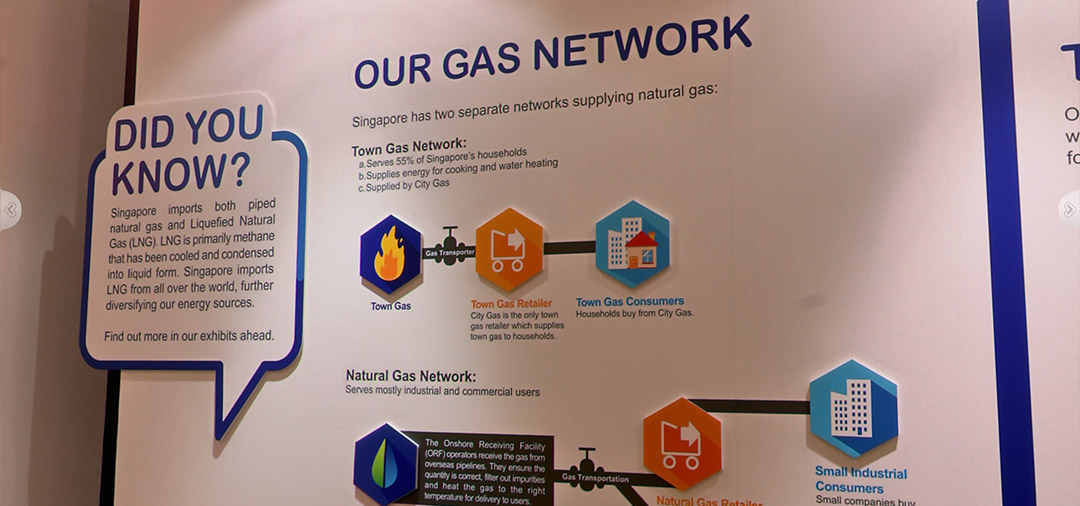 Viewers can easily zoom in to any display to read the details, such as one particular display that presents the topic on Singapore's Gas Network.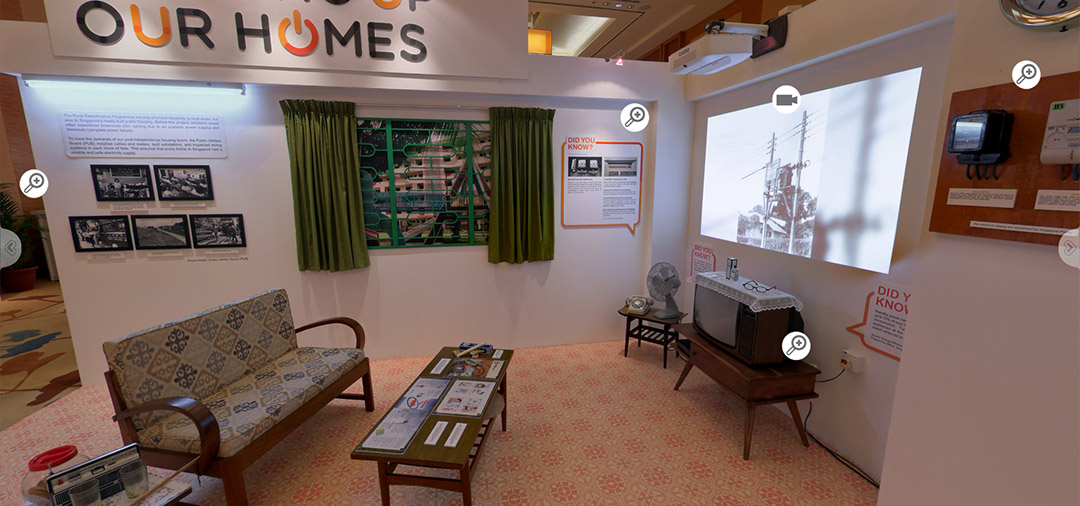 Within this online tour, a lens icon indicates a pop-up image or text. A video camera icon indicates a pop-up video.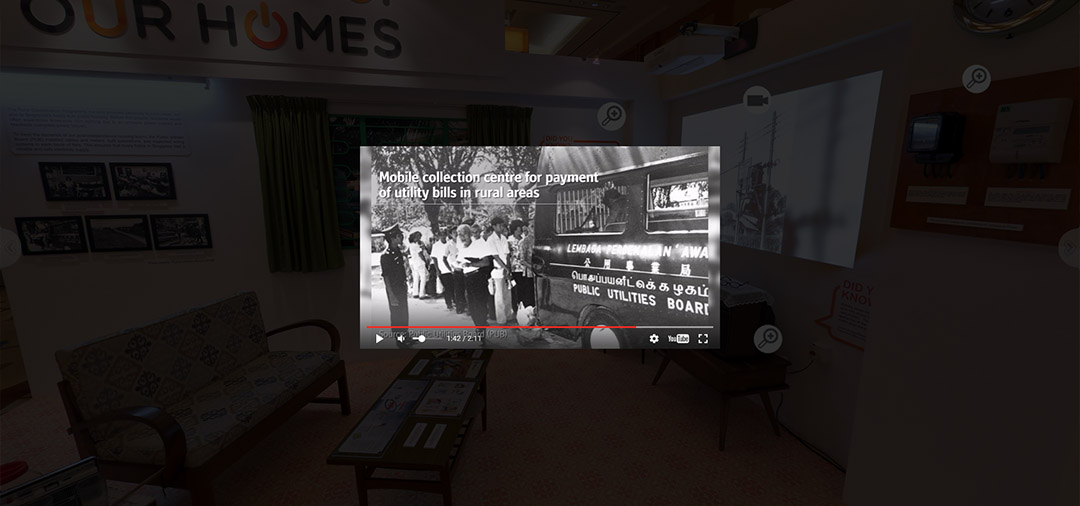 Clicking on the video camera icon allows you to play back the pop-up video. In this exhibition virtual tour, the video plays a short documentary on the energy history of Singapore.
Make Sure Your Own Exhibits Will Always Be Remembered
Creating a virtual tour of an event like the Singapore Energy Story exhibition allows you to share your valuable exhibition with anyone in the world and at any time. Long after the tradeshow or exhibit is over, you can share your digital virtual tour with your associates.
Haroko Studio has helped several companies to create virtual tours for their exhibits and tradeshows. Let us come in and support you in documenting your own educational and inspiring events.
Our customers often say that working with us is easy, and we want it that way! It is our goal to ensure the very best in photography. We will help you capture the highest possible detail and quality that impresses your audience. We also create informative and interactive virtual tours that help you bring your stories or your messages across to your viewers in an engaging way. To get started with Haroko Studio, call us or complete the "Contact Us" form to the right.