Terracotta Warriors: The First Emperor and His Legacy
Featuring famed artefacts from the Shaanxi province in China, this exhibit centers on the display of the terracotta army buried near the tomb of the First Emperor of China, Shi Huangdi.
The tomb itself held thousands upon thousands of these pottery warriors and horses. The striking works were crafted with precision by ancient sculptors and artists. These impressive items were discovered by accident, when local farmers were digging for water in the 1970s. Today, there is still more to be uncovered, and archeologists are continually working to reveal every detail of the buried past. The artefacts reveal a unique story of the First Emperor and his armies.
At the exhibit, hundreds of artefacts are on display. In addition to terracotta warriors and horses, it includes works of bronze and jade dating back to before Shi Huangdi's ascension. The display highlights new theories and asks interesting questions surrounding what is known about the emperor and his terracotta army.
Haroko Studio was commissioned to create a 360 degree interactive virtual tour of this Terracotta Warriors exhibition. Our studio was honoured to receive this historical commission, and we have strived to create a virtual tour of the highest quality.
The Challenges
The challenges of shooting the virtual tour photography for this exhibition were many. There were several reflective display casings, lighting arrangements from various angles, and lots of shadows. Only through meticulous planning were we able to angle and edit our photos to eliminate any visual flaws and create a seamless experience for viewers.
Client
National Heritage Board
Panoramic Photography And Virtual Tour
Haroko Studio
Terracotta Warriors: The First Emperor and His Legacy
Interactive Exhibit Virtual Tour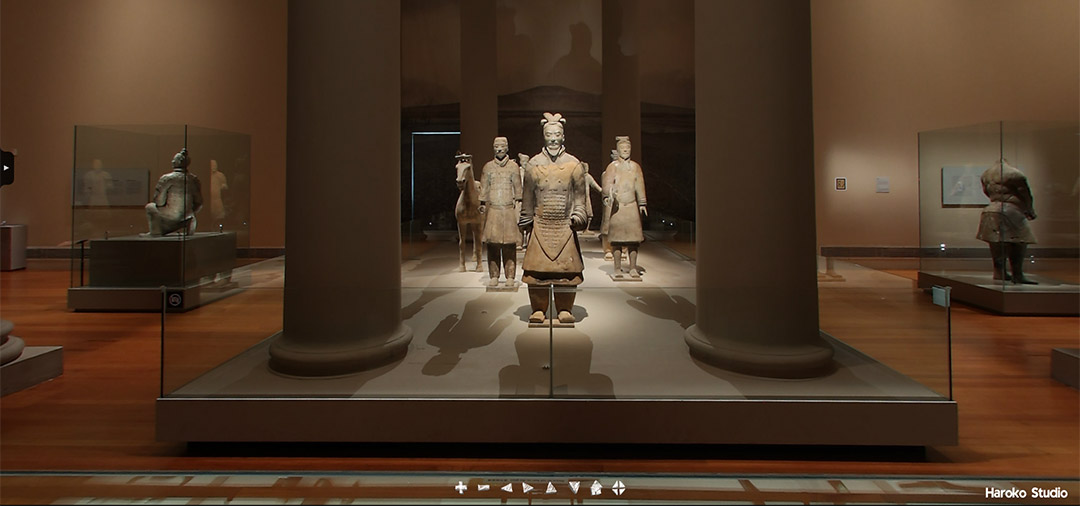 Navigate easily whether on a desktop or mobile device. On a desktop, click and drag your mouse to pan around. If you are on a mobile device, simply tilt or rotate your screen.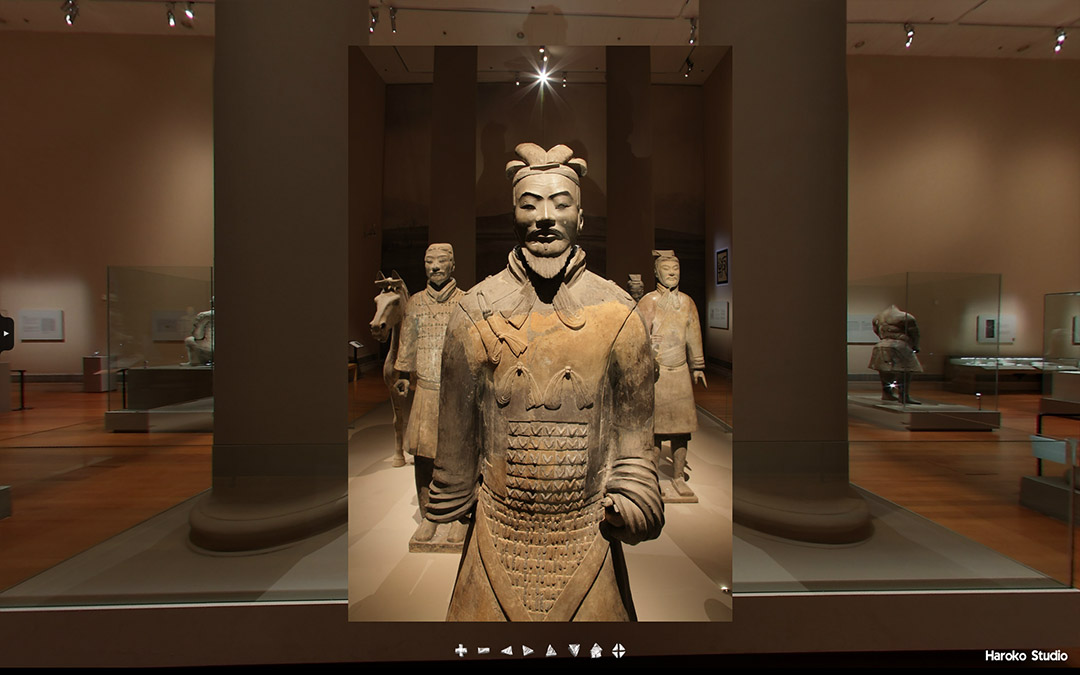 A shaded box indicates a pop-up image. Simply click or tap on the shaded box to reveal the pop-up image.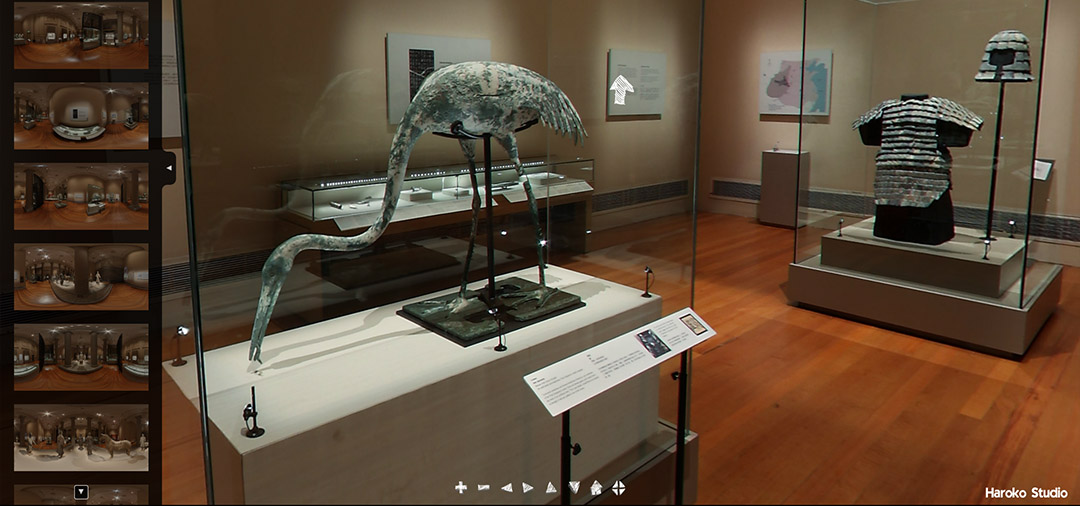 Clicking on the small arrow icon located on the far left of the virtual tour reveals a list of panoramas. Easily jump to any location by clicking on a panoramic image.
Zoom in to take a close look at the artifact. On a desktop, simply use the + and – icon tool located at the bottom of the screen to zoom in or out. If you are on a mobile device, tap the screen with two fingers and pinch inward or outward.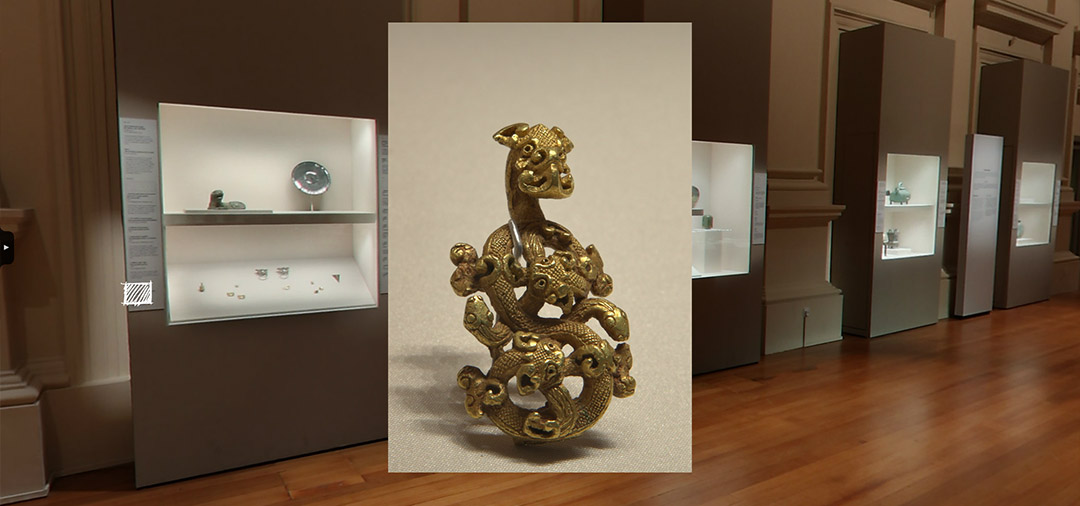 Click or tap the shaded box to reveal an up close image of the artefact.
A closer look at one artefact.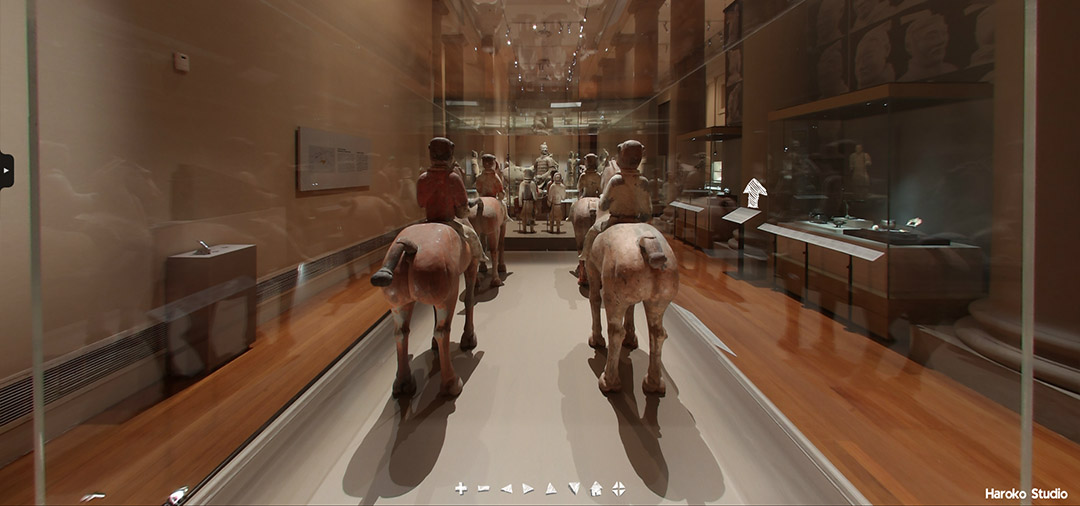 The reflective casings of the artifacts posed a challenge for photography. By using HDR photography and digital imaging know-how, we were able to make the unnecessary reflections disappear.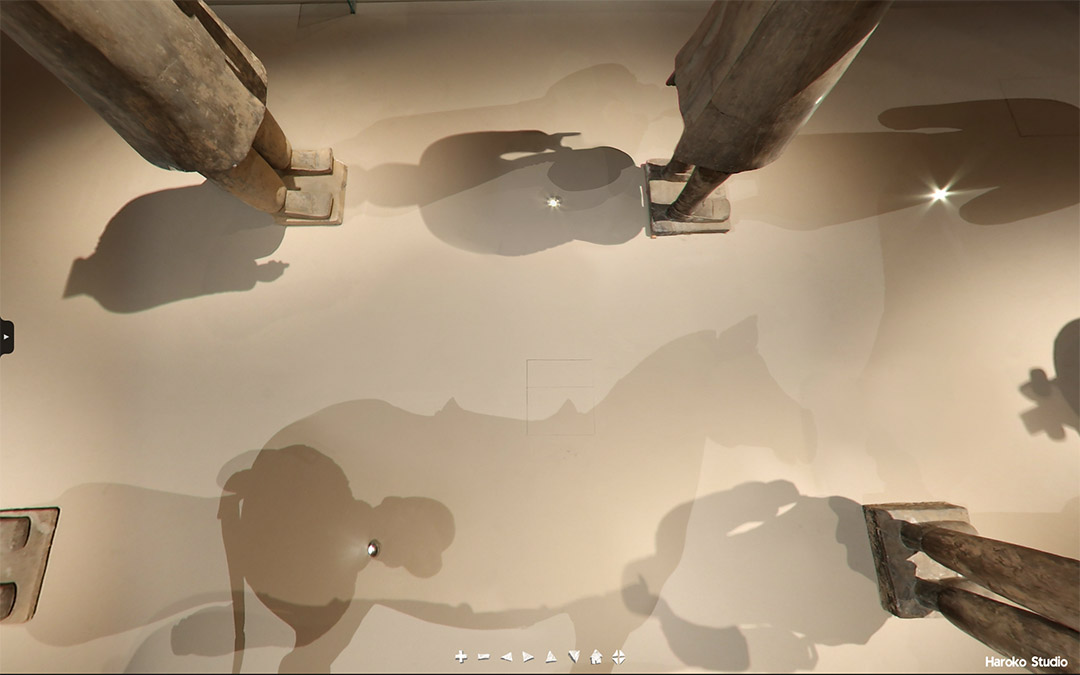 Museum lighting is difficult because lights are positioned for optimal viewing of the exhibits through the eye, not the camera lens. This lighting results in many unwanted shadows being captured by the photographer. We used digital imaging technology to remove unnecessary shadows and recover the natural shadows of the artifact—in this case it is the Terracotta Warrior and the Horse—to create a seamless viewer experience.
Quality And Details Matter To Us
We put a crucial focus on the little details of every space, including shadows, reflections, highlights, and shadows. As each and every project is different, we will first meet with you and plan out our shoot in a way that will best capture and present your space, your exhibits, your property, or your work. These are the little things that will make your virtual tour standout. We are committed to creating the best virtual tour experience.
Our customers often say that working with us is easy, and we want it that way! It is our goal to ensure the very best in photography. We will help you capture the highest possible detail and quality that impresses your audience. We also create informative and interactive virtual tours that help you bring your stories or your messages across to your viewers in an engaging way. To get started with Haroko Studio, call us or complete the "Contact Us" form to the right.
No grid was found for: "360.